Welcome to Through the Letterbox.  Moone Box is a bi-monthly subscription box from France.  And this was their first box, themed Woodlands!!
the box:
In each box you can expect:
5 to 7 high quality, original and always exclusive bookish items developed around a different theme each time
and no book!
The box is £26€ (VAT included for EU) + shipping  (13,73€ if UK based).  For other international it will depend on which zone you are in
I was super excited for this theme – Woodlands, this box is perfect for any lover of Harry Potter, The Lord of the Rings and Narnia! And I loved this because these were three of my favourite childhood of all time.
the unboxing:
 A Harry Potter porcelain mug by Sophie Masson  Porcelaine, with a quote from Ron "Follow the spiders, why couldn't it be follow the butterflies" – which easily has to be one of m favourite mugs I have ever received.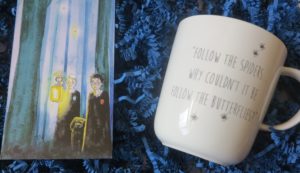 Woodlands stickers made by the MooneBox Team!

 A Harry Potter bookmark by Elaine Illustration depicting Harry and Malfoy in the Forbidden Forest.

 A lovely Narnian notebook designed by My Sweet Paper Card which had a really cute design.

An amazing Trophy Head Stag Sculpture to build yourself! By Low Poly Deco – to be honest this is my least favourite item because it's not something that appeals to me but I love the thought behind it and the fact I haven't seen it is a bookish subscription box.

 Some Pine Cones!  Because Woodland….

A

Meraki Candles inspired by Lord of the Rings

, named Fangorn Forest (the Ents' Forest) and it smells absolutely divine.
A clue for the next Theme Box Hunt!

 A Woodland postcard made by the Moone Box Team!
For a first box, I think that this was incredible. And there  were so many items that I loved – particularity the candle, mug and bookmark. I'm really excited to see what Moone Box come up with next and they are definitely going to get better and better.
Let me know if you've received a Woodlands Moone Box. I'd love to know your thoughts. What was your favourite item? And was there anything that you didn't like?
Subscribe to Blog via Email
Join 908 other subscribers