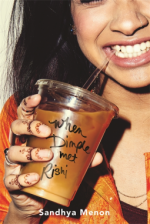 When Dimple Met Rishi
by
Sandhya Menon
Published by
Hodder Paperbacks
on July 13th 2017
Genres:
Contemporary
,
Fiction
,
Romance
,
Young Adult
Pages:
384
Format:
E-Arc
Source:
Netgalley
Buy on Amazon
Goodreads
The arranged-marriage YA romcom you didn't know you wanted or needed...

Meet Dimple.

Her main aim in life is to escape her traditional parents, get to university and begin her plan for tech world domination.

Meet Rishi.

He's rich, good-looking and a hopeless romantic. His parents think Dimple is the perfect match for him, but she's got other plans...

Dimple and Rishi may think they have each other figured out. But when opposites clash, love works hard to prove itself in the most unexpected ways.

Perfect for fans of Rainbow Rowell, Jenny Han and Nicola Yoon, WHEN DIMPLE MET RISHI is a frothy, funny contemporary romance set at a coding convention in San Francisco over one exciting summer. Told from the dual perspectives of two Indian American protagonists, Dimple is fighting her family traditions while Rishi couldn't be happier to follow in the footsteps of his parents. Could sparks fly between this odd couple, or is this matchmaking attempt doomed to fail?
When Dimple Met Rishi has to be one of the most cutest, dorkiest, geekiest and most brilliant book that I have read in a long while.  I loved the social awkwardness of it all. The inability to fit in with the norm but at the same time being utterly true to themselves.
I had honestly been reading this book for ages, since I first heard of it. I've heard such good things about this book and have been excited to read this book for too long. And fortunately, unlike some hyped book I was not disappointed. I loved every moment and ever cute encounter. From the moment Rishi proclaims 'Hello future Wife' to the end.
I loved the geekiest of it all, Dimple is into Coding and Rishi is a brilliant comic book artist. Both of them do their own things. She is determined to live her life away from her parents. While Rishi wants to uphold his family's wishes. Both are passionate and fiery and willing to do whatever it takes.
I really loved how positive this book was on arranged marriage. I know that it is a cultural thing, but most, all, things that I've read about or seen on the TV have always been negative. The fact that both parents used Insomnia Con as a way for both parties to get know one another was a brilliant idea. There was no "you are getting married and that's the end of it".  I also love that the Hindi language (please say I'm right!) that played a huge part in the story. It just made it so much more vibrant and beautiful
One thing that frustrated me was at the end Dimple's one way opinion. I love that she was sure of herself and determined to have a career. But the fact that she had something special with Rishi did not stop her pushing self destruct.
I also really wanted to know a lot more about Rishi brother – Ashish. I felt like this story was thrown into the mix. When really he could have his own book (and that's a massive hint by the way!). As a secondary character he was good and did all the right things. But he distracted me from the main thing.
Overall I loved the fact that this was a boy met girl and they fall in love story but with a twist. And looking at a cultural that from my experience is not normally portrayed. I loved every moment in When Dimple Met Rishi and wish that I could spend eternity with Rishi and Dimple.
Subscribe to Blog via Email
Join 909 other subscribers