I received this book for free from Publisher in exchange for an honest review. This does not affect my opinion of the book or the content of my review.
Death of a Cheerleader
by
Micol Ostow
Series:
Riverdale #4
Published by
Scholastic
on 5th May 2020
Pages:
304
Buy on Amazon
Goodreads
Betty and Veronica's cheerleading retreat with the River Vixens was supposed to be fun -- not deadly.Betty, Veronica, Cheryl, and the rest of the River Vixens are heading out of town for the weekend on a cheerleading retreat. So Archie, Jughead, and the rest of the guys decide to have a poker night at La Bonne Nuit. But a storm causes the power to go out, and the speakeasy goes into lockdown. When the lights come back on, all of the cash is gone. The thief has to be someone the guys know -- but who?
A few hours away, the River Vixens are ready to enjoy a few days of nature and team bonding. But when they arrive at the cheerleading camp, there are two other feuding squads already there. The team from Stonewall Prep claims that the Greendale girls are the reason one of their teammates went missing two years ago.
Betty and Veronica volunteer to investigate after creepy things start happening all over camp. And when one of the cheerleaders nearly drowns in the lake, B&V know they have to find out the truth before anyone else gets hurt -- or worse.
This original Riverdale novel features a story not seen on the show!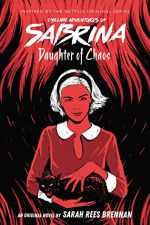 Daughter of Chaos
by
Sarah Rees Brennan
Published by
Scholastic Inc.
on December 26, 2019
Pages:
368
Buy on Amazon
Goodreads
Half-witch, half-mortal sixteen-year-old Sabrina Spellman has made her choice: She's embraced her dark side and her witchy roots. Now her power is growing daily... but will it come at too high a price?Sabrina Spellman has just made the hardest decision of her life: She's leaving behind her beloved friends at Baxter High. Now it's time to follow the path of night and find her way among the witches and warlocks at the Academy of Unseen Arts.
Sabrina has always been good at the school thing, but now she has a whole new world to navigate. Her power is growing daily, but it comes with a high price. She must always remember her new allegiances and the cost they have on her friends... and on herself.
And then there's her new classmates. Prudence, Dorcas, and Agatha are friends, kind of, but can Sabrina trust them? And what about Nick Scratch? He's as charming as ever, but will his feelings for Sabrina last?
Based on the hit Netflix show, this original YA novel tells an all-new, original story about Sabrina.
Path of Night
by
Sarah Rees Brennan
Series:
Chilling Adventures of Sabrina #3
Published by
Scholastic
on May 7, 2020
Pages:
320
Buy on Amazon
Goodreads
It's not easy being half-mortal, half-witch. At least, not for Sabrina Spellman. She just discovered that her dad is Satan ... and that it's her destiny to rule Hell.
As usual, Sabrina's got other plans for her future. She's figured out a way to trap her father ... but he's caged in the body of her boyfriend, Nick Scratch. Now the love of her life is stuck in Hell ... with Satan stuck inside him.
Sabrina knows there's a way to get Nick back while also keeping dear old dad out of commission. She just has to figure out what it is. Unfortunately, her loyal cousin Ambrose is unavailable as he's off hunting Father Blackwood, the evil former head of the Church of Night.
Fortunately, Sabrina's still got her mortal friends, Roz, Harvey and Theo. So when her aunt Zelda now the church's high priestess mentions an ancient quest that might help open the gates of Hell, Sabrina and her friends are all in. But Zelda failed to mention that the quest has some perils of its own...
Shuri: A Black Panther Novel
by
Nic Stone
Series:
Marvel
Published by
Scholastic
on May 5, 2020
Pages:
272
Buy on Amazon
Goodreads
From New York Times bestselling author Nic Stone comes an all-new upper middle grade series based on one of the Marvel Universe's break-out characters— Shuri, from Black Panther!An original, upper-middle-grade series starring the break-out character from the Black Panther comics and films: T'Challa's younger sister, Shuri! Crafted by New York Times bestselling author Nic Stone. Shuri is a skilled martial artist, a genius, and a master of science and technology. But, she's also a teenager. And a princess. This story follows Shuri as she sets out on a quest to save her homeland of Wakanda.
For centuries, the Chieftain of Wakanda (the Black Panther) has gained his powers through the juices of the Heart-Shaped Herb. Much like Vibranium, the Heart-Shaped Herb is essential to the survival and prosperity of Wakanda. But something is wrong. The plants are dying. No matter what the people of Wakanda do, they can't save them. And their supply is running short. It's up to Shuri to travel from Wakanda in order to discover what is killing the Herb, and how she can save it, in the first volume of this all-new, original adventure.
So if you scrolled down all those books (sorry not sorry!) welcome to my mini review of Death of a Cheerleader, Shuri, Path of Night and Daughter of Chaos
These are perfect if you are a fan of the Netflix / Marvel Series and are obsessed with RiverDale, Sabrina and Marvel. Or just want to get a bit extra on those universes. If that is the case all you need do is pull up a chair and you will find a great way to escape through the summer months and beyond.
These were extremely easy books to read and once I started I could not put down. From page one I was thrown into the story and needed to know the end. For me you do need to watched the series that these are based on to really get in the mood of the story. However it is not essential.
So will you be picking up Death of a Cheerleader, Shuri, Path of Night and Daughter of Chaos?
Subscribe to Blog via Email
Join 910 other subscribers