I received this book for free from Netgalley in exchange for an honest review. This does not affect my opinion of the book or the content of my review.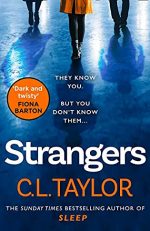 Strangers
by
C.L. Taylor
Published by
Avon
on April 2, 2020
Genres:
Fiction
,
Mystery
,
Suspense
,
Thriller
Pages:
400
Format:
E-Arc
Source:
Netgalley
Buy on Amazon
Goodreads
Ursula, Gareth and Alice have never met before.
Ursula thinks she killed the love of her life.Gareth's been receiving strange postcards.And Alice is being stalked.
None of them are used to relying on others – but when the three strangers' lives unexpectedly collide, there's only one thing for it: they have to stick together. Otherwise, one of them will die.
Three strangers, two secrets, one terrifying evening.
The million-copy bestseller returns with a gripping new novel that will keep you guessing until the end.
While writing this review for Strangers I am still reeling from the events I have read and how the story played out. This is so different from Sleep which is the last C. L Taylor book I read.
For starters while there is a feeling of claustrophobia, it's not in the locked room sense. There is an air of being unsettled. We know who the main players of the story are. We know a little bit about them. They are unrelated to each other but there is something tying them together.
And it is this thread, that as you keep reading gets more and more twisted. It is only at the end that the thread unravels and all the secrets, the links,  all those mysterious moments are revealed. And it is at the finale we can finally see what brought these three Strangers together.
There are also lots of false trails to keep your eye one that helps create some of the chaos that ensures. There were so many moments where I was taken by surprise that I made the decision not to second guess the narration pretty early on.
We follow Garth, Alice and Ursula via alternative chapters over the space of a week. From Alice we learn what consent means and how to trust people. From Ursula we learn that we first have to forgive ourselves before we can move on and when her story is revealed my heart broke. Garth, was probably the person I sympathised first with and I was always desperate to get back to his chapters.
Strangers is definitely one of my favourite reads of the years. It is full of suspense, mystery and tension. It is impossible to see how everything will end up. And who the prime suspect is. I love the fact that it is not until the very end that everything is revealed.
Sharp, addictive and thrilling Strangers is a book that I am not going to forget any time soon.
Subscribe to Blog via Email
Join 369 other subscribers