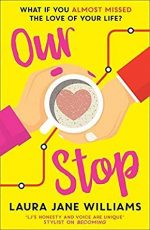 Our Stop
by
Laura Jane Williams
Published by
Avon
on June 13, 2019
Genres:
Chick-lit
,
Contemporary
,
Fiction
,
Romance
Pages:
368
Format:
Arc
,
E-Arc
Source:
Netgalley
,
Publisher
Buy on Amazon
Goodreads
Laura Jane Williams combines sharp, relatable wit and bold, joyful sincerity' Dolly Alderton

'The love story you need in your suitcase this summer!' Red

'LJ's honesty and voice are unique' Stylist

What if you almost missed the love of your life?

Nadia gets the 7.30 train every morning without fail. Well, except if she oversleeps or wakes up at her friend Emma's after too much wine.

Daniel really does get the 7.30 train every morning, which is easy because he hasn't been able to sleep properly since his dad died.

One morning, Nadia's eye catches sight of a post in the daily paper:


To the cute girl with the coffee stains on her dress. I'm the guy who's always standing near the doors… Drink sometime?


So begins a not-quite-romance of near-misses, true love, and the power of the written word.

A wonderfully funny will-they-won't-they romance told with real emotional honesty, perfectfor those who loved Dolly Alderton's Everything I Know About Love as well as fans of Lucy Vine, Holly Bourne, Mhairi McFarlane and Beth O'Leary.
Our Stop is  a cute read all about missed connections. Daniel has put an ad in the Missed Connections section of the Tube party declaring his crush to the world and hopefully to Nadia….
And so begins a story as they write to another, agree to meet up and life just keeps getting in the way. Told from both Daniel's and Nadia perspectives we find out all about their lives, their hopes and dreams.
I actually preferred Daniel's story. It felt like he grew as a person not only in his romantic gestures but also in his confidence. I felt like he was very sure in his beliefs and time and time again he stood up for what he believed.
I do wish that they had met up sooner. Even if they hadn't realised it. because the build up was a little slow and for a time there were moments when it felt like it was all going to fizzle out. I also really wanted more from the  secondary characters. Romeo was amazing but Gaby and Emma… They had their own side story but it didn't really feel part of the plot.
Overall Our Stop was a fun, cute read, that put a smile on face and had me giggling to myself. There was a lot of humour in this story which really added to the tale. If you're after a whirlwind romance this is the story for you.
Subscribe to Blog via Email
Join 905 other subscribers