I received this book for free from Netgalley in exchange for an honest review. This does not affect my opinion of the book or the content of my review.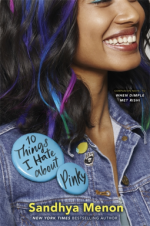 10 Things I Hate About Pinky
by
Sandhya Menon
Published by
Hodder Paperbacks
on July 21, 2020
Genres:
Contemporary
,
Fiction
,
Romance
,
Young Adult
Pages:
368
Format:
E-Arc
Source:
Netgalley
Buy on Amazon
Goodreads
The follow-up to When Dimple Met Rishi and There's Something about Sweetie follows Pinky and Samir as they pretend to date—with disastrous and hilarious results.
Pinky Kumar wears the social justice warrior badge with pride. From raccoon hospitals to persecuted rock stars, no cause is too esoteric for her to champion. But a teeny-tiny part of her also really enjoys making her conservative, buttoned-up corporate lawyer parents cringe.
Samir Jha might have a few . . . quirks remaining from the time he had to take care of his sick mother, like the endless lists he makes in his planner and the way he schedules every minute of every day, but those are good things. They make life predictable and steady.
Pinky loves lazy summers at her parents' Cape Cod lake house, but after listening to them harangue her about the poor decisions (aka boyfriends) she's made, she hatches a plan. Get her sorta-friend-sorta-enemy, Samir—who is a total Harvard-bound Mama's boy—to pose as her perfect boyfriend for the summer. As they bicker their way through lighthouses and butterfly habitats, sparks fly, and they both realize this will be a summer they'll never forget.
10 Things I Hate About Pinky for me was a mixed bag. There was times when I loved it and other when it was just meh. My feelings for this book was so frustrating, especially as I adored When Dimple Met Rishi. Which is a part of this sort of series. I wanted those same feelings and I never really reached those levels.
For me I couldn't quite like Pinky, even when she was doing something that was kind or endearing. She was her own worse enemy. And seemed determined to make the worst of everything rather than the best. For about 99% of the book I was annoyed by Pinky. However, Samir was the opposite in every way.
Then there was the relationship between Pinky and her mother. Fraught and uneasy, their relationship doesn't seem to be one that is easily fixed. Added to that her mother doesn't seem to want Pinky to be herself. Every decision Pinky makes seems to aggravate her mother. I could understand the anguish but when I found out the reason why I was a bit frustrated.
There was laughs and witty moments. And moments where you are as emotionally involved as the characters. But I spent the majority of the book frustrated. Add to that that the climatic big moment of the book was rushed and you can understand my annoyance.
For me 10 Things I Hate About Pinky had elements of what made other Sandhya Menon books great.  I enjoyed the fake dating and the moments with the possum – DQ and all the sassy comments. But while this was an enjoyable read, this was not for me. 
Subscribe to Blog via Email
Join 369 other subscribers