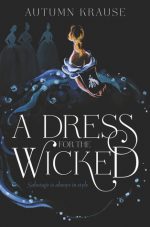 A Dress for the Wicked
by
Autumn Krause
Published by
HarperTeen
on August 6, 2019
Pages:
400
Format:
Arc
Source:
Publisher
Buy on Amazon
Goodreads
Nothing much happens in the sleepy town of Shy in Avon-upon-Kynt. And for eighteen years, Emmaline Watkins has feared that her future held just that: nothing.

But when the head of the most admired fashion house in the country opens her prestigious design competition to girls from outside the stylish capital city, Emmy's dreams seem closer than they ever have before.

As the first "country girl" to compete, Emmy knows she'll encounter extra hurdles on her way to the top. But as she navigates the twisted world of high fashion she starts to wonder: will she be able to tailor herself to fit into this dark, corrupted race? And at what cost?
A Dress for the Wicked was a completely addictive read.  I started just before bed and had to stay up late in order to finish.  I loved the setting, the competition and gorgeous dresses. The competition element, along with the dress made me think of The Selection Series. Which is you're after that type of book but with dresses then this is perfect.
I really enjoyed the romance between Emmy and Tristan. It felt like it was a bit of a slow burner, that was natural and fitted. I also enjoyed the relationship between Sophie and Emmy and how they changed over the book. But… without spoilers (hopefully!) there was an aspect of these two relationships that just made me feel uncomfortable and questioned the motive behind the act.
This is about grabbing an opportunity with both hands, not being afraid of getting what you want. It is about self-fulfilment. And I loved the empowerment feels. Emmy shows how far dedication, determination and relentless enthusiasm can take you.
I have to be honest, I was a bit disappointed in the ending. After the dizzy height that we had gone too that it felt a bit flat. But it was satisfying. So I AM SO CONFUSED!! But it was a minor point that maybe I overreacted because I was at the end. To be honest I wanted more. Something more satisfying. Or more explanation, or to go a bit further with the story.
A Dress for the Wicked was a great debut that pulled me in and swept me off my feet.  I honestly cannot wait to see what this author brings next to the table.
Subscribe to Blog via Email
Join 910 other subscribers