I received this book for free from Publisher in exchange for an honest review. This does not affect my opinion of the book or the content of my review.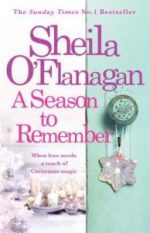 A Season to Remember
by
Sheila O'Flanagan
Published by
Headline Review
on October 27, 2011
Genres:
Chick-lit
,
Christmas
,
Fiction
,
Romance
,
Short Stories
Pages:
372
Format:
Paperback
Source:
Publisher
Buy on Amazon
Goodreads
Sheila O'Flanagan's deliciously engaging A SEASON TO REMEMBER is essential Christmas reading for fans of Marian Keyes, Veronica Henry and Harriet Evans. Reviewers love Sheila's novels: 'A romantic and charming read' Candis
It's Christmas - when everyone is meant to be merry. But what if you've just had your heart broken? Or discovered that the man you're married to has lied to you? What if a secret from your past has come back to haunt you? Then the magic of Christmas is just what you need.
As Claire and Neil Archer open the doors to their luxurious Sugar Loaf Lodge for the festive season, they and their guests are about to find out if Christmas really is the happiest time of the year!
A Season to Remember is a lovely collection of short stories based on all the groups  staying at the Sugar Loaf Lodge during the Christmas period. We meet a wide assortment of people and see the reasons for why they are staying in a hotel for Christmas. We also get their back stories, their trials and tribulations and how they come to terms. There is so much packed into these stories, that at times, it feels like we are getting a whole book!
OK so why not 5 stars? This is an enjoyable read, but… Some of the stories where too short. I fell in love with the characters and wanted to hear their stories, their loves, their achievements, but then they disappeared. Basically I wanted a whole book on them (hint hint). That was the minor problem, the major problem for me was the ghost story, it was sweet and sad and should have been lovely but I hated it. I can't really say why but I spent most of that story reading with a frowny face.
But don't let my little moans put you off this book. It is sweet and fun and has got me into the Christmassy mood. Before I feeling a bit like Scrooge. And I can see myself reading this ever year at the start of the festive season, it may even become a little tradition…
A Season to Remember is a feel good, cosy read that will get in the Christmassy spirit!
Subscribe to Blog via Email
Join 369 other subscribers