I received this book for free from Publisher in exchange for an honest review. This does not affect my opinion of the book or the content of my review.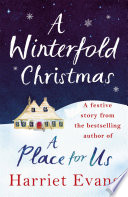 A Winterfold Christmas
by
Harriet Evans
Published by
Headline Review
on November 5, 2015
Genres:
Christmas
,
Fiction
,
Novella
,
Short Stories
Pages:
80
Format:
Paperback
Source:
Publisher
Buy on Amazon
Goodreads
Sunday Times bestselling author Harriet Evans is taking us back to Winterfold for Christmas with a spin-off tale from her Top 5 bestseller, A Place for Us. Delight in a festive reunion with the Winter family - or meet them for the first time - and enjoy their recipes for the warmest of celebrations around the fire.'A master at creating characters you feel like you know inside out, and wish you could meet in real life' Heat
Winterfold has always sprung to life at Christmas - the purple wisteria might be a distant memory, but in the crisp air of December, the glow of candles at the window and the warmth of the kitchen offer you a warm welcome.
As Martha Winter's family fill the empty rooms with their laughter and cheer, the ghosts of the past are pushed into the shadows.
Welcome to Winterfold. And the healing magic of Christmas.
Harriet Evans. She brings you home.
Yay, I was so happy to be reunited with the Winterfold family in A Winterfold Christmas. I loved that we got to catch up with the Winterfold's two years after the events in A Place for Us. And I have to be honest you probably won't appreciate these characters or at least understand them unless you have read the previous book.
I loved that we got another ending for the Winterfolds. One that is probably a bit more happy and satisfying as all have grown and got on with their lives. And it was lovely to see them all reunited and still acting as one family unit despite the ups and downs they had previously had.
This is a funny, uplifting book, that is perfect to curl up and read in front of the fire with. It also lets you catch up with favourite characters quickly and easily. Similar to those Christmas cards that include little snippets of what has been going on in the last year 🙂
A Winterfold Christmas is a great little read, that will both put you in the Christmas spirit and leaving you hoping that no cooking disasters occur!
Subscribe to Blog via Email
Join 369 other subscribers