I received this book for free from Publisher in exchange for an honest review. This does not affect my opinion of the book or the content of my review.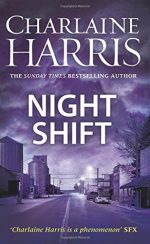 Night Shift
by
Charlaine Harris
Series:
Midnight Texas #3
on May 3rd 2016
Genres:
Fantasy
,
Fiction
,
Mystery
,
Paranormal
Pages:
320
Format:
Hardback
Source:
Publisher
Buy on Amazon
Goodreads
From the #1 New York Times bestselling author of the Sookie Stackhouse novels—"the Mark Twain of things that live under your bed"*—comes a new novel of Midnight, Texas, the town where some secrets will never see the light of day... At Midnight's local pawnshop, weapons are flying off the shelves—only to be used in sudden and dramatic suicides right at the main crossroads in town. Who better to figure out why blood is being spilled than the vampire Lemuel, who, while translating mysterious texts, discovers what makes Midnight the town it is. There's a reason why witches and werewolves, killers and psychics, have been drawn to this place. And now they must come together to stop the bloodshed in the heart of Midnight. For if all hell breaks loose—which just might happen—it will put the secretive town on the map, where no one wants it to be...
*Houston Press
I cannot believe that Night Shift is the last book. I am so disappointed that this is ending as a trilogy. Just as I felt that this series was just starting to get going, it ends. For me I felt like I was just beginning to know the characters, their stories and their lives before it all ended. Hopefully sometime in the future we will get another book.
But moving on….
If you haven't read the previous two books then do not panic and not read this. You could read this as a standalone as the previous two have different story arcs. The only thing that you will miss out on is getting to know the people of Midnight. I loved that we learnt so must more about  Lemuel and Quinn in this book. Before they had been mysterious characters, always in the background, and always essential to solving all of Midnight's issues.
The one thing that I really hated was the ritual at the very end of the book. Just so uncomfortable.  The feelings for this just made me want to put the book down. It was just so cringy and I really did not want to read that. If we could have changed that to something a bit more normal then this would have been a far better book. Just saying. Uuurrrghhhh. It freaks me out just thinking about it.
Also for a while, during the middle we sort of drifted. Night Shift had a period where it didn't go anywhere. It was just stuck like the people of Midnight. But then it picked up and everything was ok. When there was action and fighting and running around this was a really good book. I loved all the tension between the Midnighters. And I loved how all was revealed about why people had moved to Midnight ever so slowly. And I loved how characters previously kept as secondary become known to the reader.
So if you want to know a few secrets. Have some romance, some danger and some fighting talk then Night Shift is the book for you.
Subscribe to Blog via Email
Join 369 other subscribers