I received this book for free from Netgalley in exchange for an honest review. This does not affect my opinion of the book or the content of my review.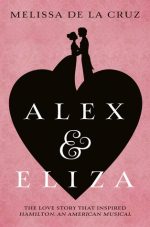 Alex and Eliza
by
Melissa de la Cruz
Series:
Alex & Eliza #1
Published by
Macmillan Children's Books
on September 7th 2017
Genres:
Fiction
,
Historical
,
Romance
,
Young Adult
Pages:
359
Format:
E-Arc
Source:
Netgalley
Buy on Amazon
Goodreads
Their romance shaped a nation. The rest was history.

1777. Albany, New York.

As battle cries of the American Revolution echo in the distance, servants flutter about preparing for one of New York society's biggest events: the Schuylers' grand ball. Descended from two of the oldest and most distinguished bloodlines in New York, the Schuylers are proud to be one of their fledgling country's founding families, and even prouder still of their three daughters—Angelica, with her razor-sharp wit; Peggy, with her dazzling looks; and Eliza, whose beauty and charm rival that of both her sisters, though she'd rather be aiding the colonists' cause than dressing up for some silly ball.

Still, she can barely contain her excitement when she hears of the arrival of one Alexander Hamilton, a mysterious, rakish young colonel and General George Washington's right-hand man. Though Alex has arrived as the bearer of bad news for the Schuylers, he can't believe his luck—as an orphan, and a bastard one at that—to be in such esteemed company. And when Alex and Eliza meet that fateful night, so begins an epic love story that would forever change the course of American history.
Before I read Alex and Eliza, I had never heard of this story or the Hamilton musical. And after reading this book all I can say is wow. This was such a great read. I  feel like I only got half the story and I really wanted to know more.
Here we follow Alex and Eliza at the start of their romantic journey. While this is based on historical fact, the author has took some creative licence with their story. This book is about how Alex and Eliza met, up to their marriage. And to be clear this is a love story. While we get to know a little about Washington and his troops, make no mistake that the focus is on Alex and Eliza's relationship.
But as well as the romance there is some great friendships. Lafayette, Laurens and Hamilton are troublemakers in the troops and are a tight knit group. I also love Eliza's aunt – she is portrayed as a strong woman who is fiercely protective of Eliza. And they have such a sweet relationship.
This is a beautiful and endearing story and it is only just the beginning. I honestly cannot wait for the next book and the next part of their romantic journey.
Subscribe to Blog via Email
Join 910 other subscribers