I received this book for free from Netgalley in exchange for an honest review. This does not affect my opinion of the book or the content of my review.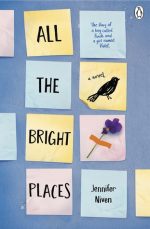 All the Bright Places
by
Jennifer Niven
Published by
Penguin
on January 8, 2015
Genres:
Contemporary
,
Fiction
,
Romance
,
Young Adult
Pages:
388
Format:
E-Arc
Source:
Netgalley
Buy on Amazon
Goodreads
Theodore Finch is fascinated by death, and he constantly thinks of ways he might kill himself. But each time, something good, no matter how small, stops him.
Violet Markey lives for the future, counting the days until graduation, when she can escape her Indiana town and her aching grief in the wake of her sister's recent death.
When Finch and Violet meet on the ledge of the bell tower at school, it's unclear who saves whom. And when they pair up on a project to discover the 'natural wonders' of their state, both Finch and Violet make more important discoveries: It's only with Violet that Finch can be himself - a weird, funny, live-out-loud guy who's not such a freak after all. And it's only with Finch that Violet can forget to count away the days and start living them. But as Violet's world grows, Finch's begins to shrink.
All the Bright Places is a beautifully compelling book and I have found it ridiculously difficult to write a review. A month after reading this book I still get a wave of emotions and feels just thinking about this book. And with a book this good it is hard to write a review that will do it justice. Honestly pick this book up, read it and love it.
Ok so here is my attempt at writing a review:
It is told alternatively from the perspectives of Finch and Violet. Both of them are so different in their voices – Finch is full of energy and has bouts of spontaneity and excitement (he is quite a sassy character), Violet is more reserved, and unable to cope with life after her sister's death. But under Finch's influences she slowly starts enjoying life again.
When Finch speaks he has so many quirks, but as the book progresses you slowly realise he is extremely good at hiding what is wrong. But with Violet he feels special, that everything is OK, and that he will find a way for everything to be better. Violet and Finch have a bright, loving and messy relationship which is what both of them need at this time of their lives.
This is a beautifully written, poignant book with heart-wrenching moments. All the Bright Places is about how to live and how, when tragedy strikes, to heal.
Subscribe to Blog via Email
Join 908 other subscribers