I received this book for free from Publisher in exchange for an honest review. This does not affect my opinion of the book or the content of my review.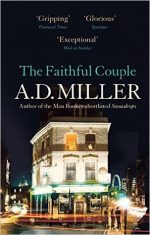 The Faithful Couple
by
A.D. Miller
Published by
Abacus
on February 4, 2016
Genres:
Fiction
Pages:
320
Format:
Paperback
Source:
Publisher
Buy on Amazon
Goodreads
Turn a betrayal inside out and you found its opposite, a secret and a bond. Perhaps that was what friendship came down to: a lifelong, affectionate mutual blackmail.
Neil and Adam, two young men on the cusp of adulthood, meet one golden summer in California and, despite their different backgrounds, soon become best friends. Buton a camping trip in Yosemite they lead each other into wrongdoing that, years later, both will desperately regret.
Their connection holds through love affairs, fatherhood, the wild successes and unforeseen failures of booming London, as power and guilt ebb between them.
Then the truth of that long-ago night emerges.
What happens when you discover that the friendship you can't live without was always built on a lie?
Today I am super excited not only to be sharing my review of The Faithful Couple but to also be hosting a giveaway! So if you want a copy of this amazing book then look no further!
Review:
I loved that The Faithful Couple is a story about how friendship can change over time, roles can differ and what was once important no longer matters, but there are still some things that will haunt us for years after. An event in California is one of them.
Unfortunately for this book, the plot line is impossible to describe and talk about without seeming impossibly dull and slow. Yet, somehow the pace of the narrative, the characterisation and plot kept me intrigued. There was something compelling about the story that drove me on to read more.
I didn't really like Neil or Adam. Both are egotistical and attention seeking. Both have an inferiority complex. Despite this I was drawn to Neil. I want him to success and for everything to be well for him. I wanted to know how both reacted to events and wanted to know what they would do next.
The underlying, and perhaps most important, theme of this book is the secrets we keep, the trivial, unimportant things that dominant our lives and can take over our minds. It is the effect of one secret in particular that dominates the story and the effect it has on the two men is distinctly different despite both having differing roles.
This is a satisfying tale on the meaning of friendship that will leave you thinking long after reading.
Giveaway of The Faithful Couple (EU Only):
A copy of The Faithful Couple is being provided by the publisher. Winner will be selected at random and will be contacted via email. The winner has 48 hours to respond to claim their prize before another winner will be chosen.
Subscribe to Blog via Email
Join 369 other subscribers