I received this book for free from Publisher in exchange for an honest review. This does not affect my opinion of the book or the content of my review.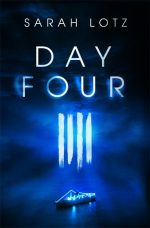 Day Four
by
Sarah Lotz
Series:
The Three #2
Published by
Hodder & Stoughton
on May 21, 2015
Genres:
Fiction
,
Horror
,
Science Fiction
,
Thriller
Pages:
352
Format:
Hardback
Source:
Publisher
Buy on Amazon
Goodreads
Four planes. Three survivors. One message. It seemed like the end of the world... but it wasn't. This, however, just might be.
The extraordinary, unforgettable sequel to The Three - perfect for fans of The Shining Girls, The Passage and Lost.
Four days into a five day singles cruise on the Gulf of Mexico, the ageing ship Beautiful Dreamer stops dead in the water. With no electricity and no cellular signals, the passengers and crew have no way to call for help. But everyone is certain that rescue teams will come looking for them soon. All they have to do is wait.
That is, until the toilets stop working and the food begins to run out. When the body of a woman is discovered in her cabin the passengers start to panic. There's a murderer on board the Beautiful Dreamer... and maybe something worse.
Despite being termed the sequel to The Three, it is possible to read Day Four as a standalone. It is a sequel because some of the characters mentioned in Day Four were in The Three (and maybe cause small spoilers?). And for I definitely felt that to understand it would be good to read The Three first.
Unlike The Three which had numerous newspaper extracts and interviews slotted in-between chapters, Day Four focuses on the thoughts and opinions of eight characters which are told in alternative chapters. This created a different suspense element as there was a claustrophobic feeling as everything was focused on the cruise ship and there was no hint that the outside world existed.
However it is the final chapter that was utterly brilliant for me. This is a chapter told via numerous survivors, all who say different things and all who have different experience. This creates confusion and a sense of unease over what really happened. Can we believe our own thoughts? Should we take everything is fact? And how do we know when we are being tricked?
I definitely enjoyed Day Four more than The Three. This is because it had a different feel to The Three, and felt more relatable. A cruise ship should be for rest and relaxation but I can imagine that if the ship stopped working things would go down hill very quickly. Here there is a mystery so hidden that it is hard to see what the problems are.
 Day Four managed to freak me out due to its atmospheric read. The way the lights stopped working, the listing of the ship. All and this and more, they may have only been little things, little instances that occurred like a reflection in a door. But it was enough for the goosebumps to occur and the butterflies in the stomach to start fluttering.
A gripping and addictive read that is impossible to put down.
Subscribe to Blog via Email
Join 905 other subscribers