I received this book for free from Netgalley in exchange for an honest review. This does not affect my opinion of the book or the content of my review.
Angel Mage
by
Garth Nix
Published by
Gollancz
on September 30, 2019
Genres:
Fantasy
,
Fiction
,
Young Adult
Pages:
560
Format:
E-Arc
Source:
Netgalley
Buy on Amazon
Goodreads
More than a century has passed since Liliath crept into the empty sarcophagus of Saint Marguerite, fleeing the Fall of Ystara. But she emerges from her magical sleep still beautiful, looking no more than nineteen, and once again renews her single-minded quest to be united with her lover, Palleniel, the archangel of Ystara.

A seemingly impossible quest, but Liliath is one of the greatest practitioners of angelic magic to have ever lived, summoning angels and forcing them to do her bidding.

Liliath knew that most of the inhabitants of Ystara died from the Ash Blood plague or were transformed into beastlings, and she herself led the survivors who fled into neighboring Sarance. Now she learns that angels shun the Ystaran's descendants. If they are touched by angelic magic, their blood will turn to ash. They are known as Refusers, and can only live the most lowly lives.

But Liliath cares nothing for the descendants of her people, save how they can serve her. It is four young Sarancians who hold her interest: Simeon, a studious doctor-in-training; Henri, a dedicated fortune hunter; Agnez, an adventurous musketeer cadet; and Dorotea, an icon-maker and scholar of angelic magic. They are the key to her quest.

The four feel a strange kinship from the moment they meet, but do not know why, or suspect their importance. All become pawns in Liliath's grand scheme to fulfill her destiny and be united with the love of her life. No matter the cost to everyone else. . .
In so many ways Angel Mage is a very different read from Garth Nix's previous works. Inspired in part by the Three Musketeers there is an element of medieval world building that creates a mythical feeling throughout the telling.
At the beginning I was a little hesitant over the idea of using magic through Angel Icons, each Icon having different powers and controls different part of the world.  However, it also became natural to reach for the Icon and summon an Angel.
Throughout Angel Mage, we follow Liliath who has been asleep for over a century since fleeing her home country. Now awake, her country is overrule by wild magically creatures and she is determined to set it right. With the help of four young individuals, we follow their journey as they attempt to fix a terrible wrong.
All four are different, both in personality and backgrounds.  Each adding something different and much needed to this quest. While the focus is on Liliath, we do get some insight into their lives and their personalities through out the book.
Yet, despite their differences, it is hard to pick a favourite. Do you choose Simeon, a studious doctor-in-training; Henri, a dedicated fortune hunter; Agnez, an adventurous musketeer cadet; and Dorotea, an icon-maker and scholar of angelic magic. Each brings so much to the book that the book could have easily focused on one.
This was a compelling, thrilling and exhilarating read, that kept me up late into the night in my quest to finish. A super book, and one that I wish was not a standalone. This is a great book for the fans but also a great introduction to a fantastic author.
Angel Mage  has to be one of my highlights of the year and one book I cannot wait to read again!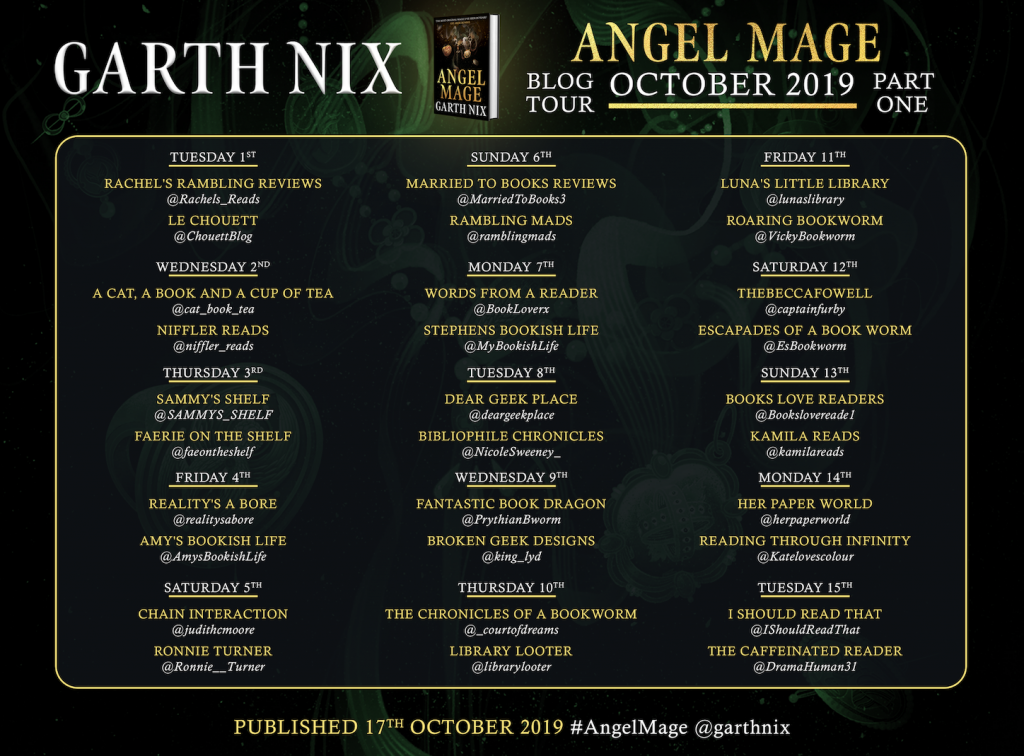 Subscribe to Blog via Email
Join 910 other subscribers