I received this book for free from Netgalley, Publisher in exchange for an honest review. This does not affect my opinion of the book or the content of my review.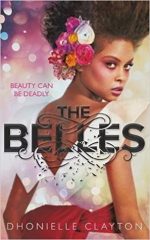 The Belles
by
Dhonielle Clayton
Series:
The Belles #1
Published by
Gollancz
on February 8th 2018
Genres:
Fantasy
,
Fiction
,
Young Adult
Pages:
448
Format:
Arc
,
E-Arc
Source:
Netgalley, Publisher
Buy on Amazon
Goodreads
Camellia Beauregard is a Belle. In the opulent world of Orléans, Belles are revered, for they control Beauty, and Beauty is a commodity coveted above all else. In Orléans, the people are born gray, they are born damned, and only with the help of a Belle and her talents can they transform and be made beautiful.

But it's not enough for Camellia to be just a Belle. She wants to be the favorite—the Belle chosen by the Queen of Orléans to live in the royal palace, to tend to the royal family and their court, to be recognized as the most talented Belle in the land. But once Camellia and her Belle sisters arrive at court, it becomes clear that being the favorite is not everything she always dreamed it would be. Behind the gilded palace walls live dark secrets, and Camellia soon learns that the very essence of her existence is a lie—that her powers are far greater, and could be more dangerous, than she ever imagined. And when the queen asks Camellia to risk her own life and help the ailing princess by using Belle powers in unintended ways, Camellia now faces an impossible decision.

With the future of Orléans and its people at stake, Camellia must decide—save herself and her sisters and the way of the Belles—or resuscitate the princess, risk her own life, and change the ways of her world forever.
My initial thoughts on The Belles was that it sounded interesting but that it wasn't going to  go anywhere. After all it seemed to be all about changing your appearances. How wrong could I be. This was an addictive, exciting, thrilling ride. That had me hooked from page one and had me begging for more at the end.
This is a book that I am truly excited about. The twists and turns, the plot and the people were so unexpected, so vibrant and so deadly I cannot actually describe what made this book so good. It did start off a bit slow, but the world was so richly detailed that it didn't matter, and it seemed clear from the start that this was set out to be a series.
It reminded a bit of a beautiful Hunger Games, along with The Selection series. Everything is a game and beauty is a commodity. The Belles have the power to make people beautiful but is everything they do exactly as it seems. And why does it feel that so many truths have been hidden from them.
Camellia is our main Belle, she has always dreamed of being the palace favourite, the one to beautify the royal family. But when the Queen gives her a task of rescuing the princess is she getting more than she bargained for? She is kind, and has empathy and determination that she desperately requires to survive Orleans.  Then there is Amber (another Belle) and Remy (Camellia bodyguard) who add so much more to the story.
One thing that I can say for certain is that I am excited that there is another book to come because that ending was a bit of a roller-coaster and now I teetering over the edge.
If you are after a book that is fast, beautiful and deadly The Belles has in spades.
Subscribe to Blog via Email
Join 369 other subscribers