I received this book for free from Publisher in exchange for an honest review. This does not affect my opinion of the book or the content of my review.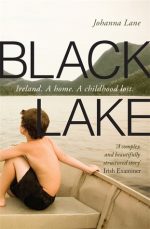 Black Lake
by
Johanna Lane
Published by
Tinder Press
on February 12, 2015
Genres:
Fiction
Pages:
227
Format:
Hardback
Source:
Publisher
Buy on Amazon
Goodreads
For generations, the Campbells have lived happily at Dulough, an idyllic, rambling estate on the windswept coast of Ireland. But upkeep has drained the family coffers. Faced with the heartbreaking possibility of having to sell, John Campbell makes a very difficult decision; to keep Dulough he will turn the estate into a tourist attraction. He and his wife, daughter and son will move from the luxury of the big house to a small, damp caretaker's cottage. The upheaval strains the already tenuous threads that bind the family, and when a tragic accident befalls them, long-simmering resentments and unanswered yearnings are forced to the surface.
The identity of the Campbells is tied up in Dulough House but now everything is about to change and the life that they once lived is now tantalisingly out of reach in the past. Black Lake is a simple atmospheric story.
There is a lot of description about the house, the grounds it stands on and the characters themselves. There is a whole history within those walls and Campbells are only a small part of its history.
This was a beautifully written, atmospheric book but the main problem for me was that not much really happens. It's a slow burn book. We get tit-bits of discontent, a changing atmosphere. But nothing really concrete. It was had to decide whether there was any point in continuing to read this book.
Black Lake started with the ending , leading the reader to question how the family came to be in this situation, what event caused this outcome. How will each of the characters cope with the events and the situation? How will they cope with all the changes? What effect will all the repercussions have?
Subscribe to Blog via Email
Join 369 other subscribers