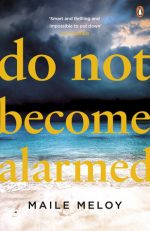 Do Not Become Alarmed
by
Maile Meloy
Published by
Penguin
on July 6th 2017
Genres:
Fiction
,
Mystery
,
Thriller
Pages:
304
Format:
Arc
,
E-Arc
Source:
Netgalley
,
Publisher
Buy on Amazon
Goodreads
When Liv and Nora decide to take their husbands and children on a holiday cruise, everyone is thrilled. The ship's comforts and possibilities seem infinite. But when they all go ashore in beautiful Central America, a series of minor mishaps lead the families further from the ship's safety.
One minute the children are there, and the next they're gone.
What follows is a heart-racing story told from the perspectives of the adults and the children, as the distraught parents - now turning on one another and blaming themselves - try to recover their children and their shattered lives.
In Do Not Become Alarmed this is a situation that I cannot possibly fathom. And a situation I definitely do not ever want to be in. What starts off as the perfect holiday ends up being a nightmare. One minor incident is the start of a terrifying few days as families become separated and it is a race to find one another.
While the search is on, so is the blame game. Who is to blame for this horrific situation? Can you accept our part? And should you blame someone else?
Each chapter is told from a different perspective. Child, parent, all having differing takes on the situation and each providing different solutions. I really like the children's perspective because they did not sit around moaning and crying. They tried their best no matter what the situation. Rightly and wrongly. And did they all they could to get home. While the adults appear to argue.
There were several moments that I think should have affected me more than the did. I think that the adrenaline from this book was so high that I ended up  with 'shrugs shoulders' attitude. The twists felt expected, a necessary thing to keep the plot going and there were a few moments that dragged.
When I started Do Not Become Alarmed my hopes were high and by the time I finished I was quite uncertain about my thoughts. This was a good book. And I did enjoy it. But it was more subtle than I was expecting. Less full on thriller and more intense family drama.
There was a sense of purpose to the story and need to find out the solution. There are a lot of thought-provoking topics in this tale and each is a worth tale of their own. Light and darkness go hand in hand in this book. And while you can find light at the end of the tunnel, that ending may not be what you expect.
Subscribe to Blog via Email
Join 910 other subscribers