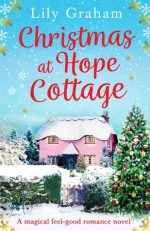 Christmas at Hope Cottage
by
Lily Graham
Published by
Bookouture
on October 18th 2017
Genres:
Chick-lit
,
Christmas
,
Contemporary
,
Fiction
,
Romance
Pages:
250
Format:
E-Arc
Source:
Netgalley
Buy on Amazon
Goodreads
In the little village of Whistling, with its butterscotch cottages and rolling green hills, snow is beginning to fall. Christmas is coming, and Emma Halloway is on her way home.

When twenty-eight-year-old food writer Emma Halloway gets dumped then knocked off her bike, she's broken in more ways than one, and returns to her family's cosy cottage in the Yorkshire Dales. Emma hasn't been back in some time, running from her crazy relatives and her childhood sweetheart, Jack Allen.

Emma's grandmother is determined to bake her back to health and happiness, as the Halloways have done for generations. Surrounded by old friends and warm cinnamon buns, Emma starts to believe in her family's special talents for healing again. But then in walks Jack with his sparkling hazel eyes, stirring up the family feud between them.

As the twinkly lights are strung between the streetlamps, Emma remembers just why she fell for Jack in the first place... and why a Halloway should never date an Allen.

The infuriating new lodger, Sandro, doesn't believe anyone should have to choose between love and family. With a little bit of Christmas magic, can Emma and Jack find a way to be together, or will Emma find herself heartbroken once more?

An utterly gorgeous Christmas romance about the importance of family, freshly baked biscuits, and learning to trust your heart. Perfect for fans of Phillipa Ashley, Debbie Johnson and Debbie Macomber.
Okay, so I have to be honest. When I first started reading this Christmas at Hope Cottage, I did pull a face.
I mean it is set in the present and there was this magical idea that recipes can help people. But not make someone better, more help them in a difficult situation or help mend a marriage. For some reason I was not buying into the recipe stuff. But I continued because I really liked Emma and I wanted to see how she would do. It also helps that she was a bit sceptical like me.
I loved how she reacted around her family. Lets be honest her aunts and grandmother were a bit bonkers but they had the best of intentions. And lets not forget the sexy lodger….. will he be a better fit for Emma than childhood sweetheart Jack Allen? Well you will have to read to find out!
Filled with lots of eccentric and whimsical moments this is a book that tells the story of baking, romance, wishes, feuds and togetherness. Filled with some pretty crazy people this is a book that will add some sparkle into your festive reads.
Christmas at Hope Cottage is a magical read with lots of festive elements.That succeeded my exceptions and showing that you should never judge a book until you have read it!
Subscribe to Blog via Email
Join 369 other subscribers