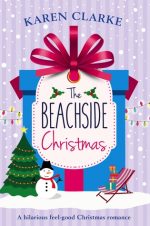 The Beachside Christmas
by
Karen Clarke
Published by
Bookouture
on September 26th 2017
Genres:
Chick-lit
,
Christmas
,
Contemporary
,
Fiction
,
Romance
Pages:
314
Format:
E-Arc
Source:
Netgalley
Buy on Amazon
Goodreads
Snow is falling and there's romance in the air. Curl up for a cosy Christmas by the fire at Seaview Cottage…When thirty-year-old Lily Ambrose's latest relationship ends in disaster, she remembers happy childhood holidays in the seaside town of Shipley and decides it's the perfect place for a fresh start.

But when Lily arrives, the town's spirits are as low as her own: the local celebrity due to turn on the Christmas lights has gone on a cruise instead. Keen to prove herself, she calls in a favour and secures gorgeous reality star Ollie.

Lily's neighbours are initially thrilled, but Ollie is as uncontrollable as he is good-looking. He can't remember the town's name, calls the Christmas decorations tacky, and manages to offend everyone. And whilst handsome but stubborn cameraman Craig tries to help, even he can't stop Ollie's madcap plans to stage a romance with Lily…

Will Lily be able to keep Ollie under control and bring the Christmas cheer back to Shipley – and find herself a real kiss under the mistletoe?An addictive, heart-warming and uplifting read about friendship, romance, and Christmas spirit. Perfect for fans of Phillipa Ashley, Cathy Bramley and Debbie Johnson.
The Beachside Christmas was such a fun read, and it was only at the end that I realised that it is part of a series. I never felt like I had missed any crucial information. But obviously I would have got to have known some of the secondary characters better if I had been fully aware of the facts.
I love that this was set around a Christmas Lights competition. Only at Christmas can you have something so ridiculous and so good. I loved the friendly competition and macho antics everyone had. And Doris Day was hilarious. She was the perfect village gossip.  Although my favourite has to be Marmite the Cat – he has such an attitude that it is hard not to fall in love with him.
I giggled to myself though the entirety of this book as Ollie – a posh reality star – tries to make the people of Shipley love him – he has his work cut out and he is a bit confused about why things are not going his way.
The one thing that I really did not like in this book was the romantic element. I did feel like it was a bit forced and pushed upon. Because let's be honest in this sort of book it is expected. It was naturally and I didn't think that there was any romance happening until it was rammed down my throat. Okay not literally, but you get my drift….
I did want a bit more action. Instead it all seems to happen at the end, while the middle dithers about. Oh and the reason why Lily left her job, could there have been a better reason, or am I being unsympathetic?
HoweverThe Beachside Christmas is a fun Christmassy read that will leave you with a smile on your face. Time to sprinkle some glitter and get in the Christmas spirit!
Subscribe to Blog via Email
Join 369 other subscribers