I received this book for free from Netgalley in exchange for an honest review. This does not affect my opinion of the book or the content of my review.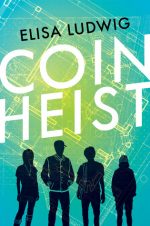 Coin Heist
by
Elisa Ludwig
Published by
Adaptive Books
on June 6, 2014
Genres:
Contemporary
,
Fiction
,
Young Adult
Pages:
296
Format:
E-Arc
Source:
Netgalley
Buy on Amazon
Goodreads
The last place you'd expect to find a team of criminals is at a prestigious Philadelphia prep school. But on a class trip to the U.S. Mint - which prints a million new coins every 30 minutes - an overlooked security flaw becomes far too tempting for a small group of students to ignore. United by dire circumstances, these unlikely allies - the nerd, the slacker, the athlete, and the perfect student - band together to attempt the impossible: rob the U.S. Mint. This diverse crew is forced to confront their true beliefs about each other and themselves as they do the wrong thing for the right reasons. Elisa Ludwig's COIN HEIST is a fun, suspenseful and compelling thriller, told from the revolving perspectives of four teens, each with their own motive for committing a crime that will change their all of their lives - if they can pull it off.
"Jackpot! Smartly plotted, morally fascinating, and featuring the most engaging crew of prep school outlaws, Elisa Ludwig's COIN HEIST is a heist story with heart." -- Diana Renn, author of Tokyo Heist and Latitude Zero
"COIN HEIST is indeed a tale of an epic break-in at the Philadelphia Mint. But that's only half the story. The other half is a touching coming-of-age story and the third half is a wonderful character study of teenage life in America as it's lived now. Look, maybe I'm not good at math and maybe three-halves is impossible. Or maybe COIN HEIST is just that good." -- Josh Berk, Edgar Award finalist and author of The Dark Days of Hamburger Halpin and Guy Langman: Crime Scene Procrastinator
So in the Coin Heist, the characters all appeared to be narrowly defined according to their stereotype – the slacker, the nerd, the athlete, and the "perfect" student. Without much room for manoeuvre or character development.
 Coin Heist is told from the point of view of the four different characters. While this allows for greater flexibility in the story telling, there were times where I became confused over whose point of view it was and I wanted the characters to have a more distinctive narrative style, especially as they are meant to all portray different characteristics.
Out of all the characters I preferred Dakota and Benny as their development and characterisation was more realistic, while Alice annoyed me with her maths metaphors and Jason's potential to grow and prove everyone wrong was swept under the rug.
Overall Coin Heist manages to combine teenage characters and their issues into a fun book that is filled with action, banter and romance (the 'like' kind not the 'first and only love' type). This is a light easy read, and can definitely be described as the Breakfast Club meets Oceans 11.
Subscribe to Blog via Email
Join 369 other subscribers