I received this book for free from Netgalley in exchange for an honest review. This does not affect my opinion of the book or the content of my review.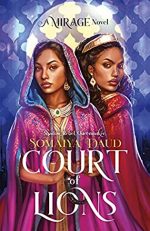 Court of Lions
by
Somaiya Daud
Series:
Mirage
,
#2
Published by
Hodder
on August 6, 2020
Genres:
Fantasy
,
Fiction
,
Young Adult
Pages:
336
Format:
E-Arc
Source:
Netgalley
Buy on Amazon
Goodreads
Two identical girls, one a princess, the other a rebel. Who will rule the empire?
After being swept up into the brutal Vathek court, Amani, the ordinary girl forced to serve as the half-Vathek princess's body double, has been forced into complete isolation. The cruel but complex princess, Maram, with whom Amani had cultivated a tenuous friendship, discovered Amani's connection to the rebellion and has forced her into silence, and if Amani crosses Maram once more, her identity - and her betrayal - will be revealed to everyone in the court.
Amani is desperate to continue helping the rebellion, to fight for her people's freedom. But she must make a devastating decision: will she step aside, and watch her people suffer, or continue to aid them, and put herself and her family in mortal danger? And whatever she chooses, can she bear to remain separated, forever, from Maram's fiancé, Idris?
I was so excited to read Court of Lions. I cannot believe that it has been two years since Mirage came out! And I have to say I am so glad that I waited to read the first book, because I would not have been able to wait so long! If you are yet to pick up this duology, then trust me when I say that you need to do so now!
My favourite thing about this book is that we had chapters from Marman perspective. Which I really wanted in the last book, but had been denied.  For me I felt like all the pieces were clicking into place and it was interesting to see how everything would turn out. Also we got to see so much more of the world and were introduced to some amazing people. I feel like I can't go too much into detail here. But I want these people as my friend!
I also loved that I got my own way with this book. There were so many things I wanted to happen and it did. I just want to hug the author and say thank you for not ruining my dreams! And even through everything did turn out how I expected, there were a few surprises thrown in. Just to keep you on your toes. And these made the book even better.
The most disappointing thing about this book, is that this series is a duology. It ends fine but I was not ready to leave this world. I ended up reading this book slowly just so that I could savour every last page! Because this book ended far sooner than it should. Honestly the fact that this is the only thing I can moan about is a good thing.
I loved Court of Lions, so much so that I think it is fair to say that this series is now one of my favourites ever. I cannot wait to read this again, and I cannot wait to see what Somaiya has in store for us next! if you are after, romance, adventure, and changing the world this is a book for you.
Subscribe to Blog via Email
Join 910 other subscribers