I received this book for free from Netgalley, Publisher in exchange for an honest review. This does not affect my opinion of the book or the content of my review.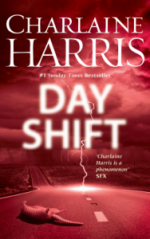 Day Shift
by
Charlaine Harris
Series:
Midnight Texas #2
Published by
Gollancz
on May 7, 2015
Genres:
Fantasy
,
Fiction
,
Mystery
,
Paranormal
Pages:
320
Format:
E-Arc
,
Hardback
Source:
Netgalley, Publisher
Buy on Amazon
Goodreads
In Midnight Crossroad, Charlaine Harris "capture[d] the same magic as the world of Bon Temps, Louisiana, and [took] it to another level" (Houston Press). Now the #1 New York Times bestselling author of the Sookie Stackhouse novels returns to the one-traffic-light town you see only when you're on the way to someplace else…
There is no such thing as bad publicity, except in Midnight, Texas, where the residents like to keep to themselves. Even in a town full of secretive people, Olivia Charity is an enigma. She lives with the vampire Lemuel, but no one knows what she does; they only know that she's beautiful and dangerous.
Psychic Manfred Bernardo finds out just how dangerous when he goes on a working weekend to Dallas and sees Olivia there with a couple who are both found dead the next day. To make matters worse, one of Manfred's regular—and very wealthy—clients dies during a reading.
Manfred returns from Dallas embroiled in scandal and hounded by the press. He turns to Olivia for help; somehow he knows that the mysterious Olivia can get things back to normal. As normal as things get in Midnight…
 Hummm, I loved, loved the first book. But with Day Shift I got the impression that you need to read the Sookie series before this series. There were mentions of things all over the place that were never really explained. Almost as if the reader should know what is happening. But I didn't and that was off-putting.
I also struggled to understand the real significance of the hotel opening except that it was a huge inconvenience for the Midnighters. Maybe it will play a more significant role in the next story?
Ok enough moaning!
What I did love was the change in focus on the characters. Here we got to know a lot more about Olivia, Joe and Chuy. But at the sacrifice of other great characters – Bobo, Fiji and Lemual. They are al great characters but the book feels completely different to the first without everyone. Although I did like that we got to know more of the back-story for Olivia and some of the mystery mist is listed. Yay!
This story is just as dark and mysterious as the first. And somehow the Midnighters magic, or particular abilities take a back seat and there is much more focus on the mystery and suspicion surrounding Manfred in the case of his murdered client.
I like how tight-knit the group is, even if they are not involved in the story all the time. I love how they come together and help each other out as required. There was really a great sense of the community coming together. And it was amazing to see neighbours helping each over out when needed. And here, help takes place in more than one way.
Day Shift is a great blend of mystery, darkness and unexpected events. Filled with humour and a touch of magic to keep you on your toes 🙂
Subscribe to Blog via Email
Join 910 other subscribers