I received this book for free from Netgalley in exchange for an honest review. This does not affect my opinion of the book or the content of my review.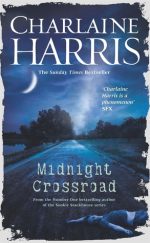 Midnight Crossroad
by
Charlaine Harris
Series:
Midnight Texas #1
Published by
Gollancz
on May 6, 2014
Genres:
Fantasy
,
Fiction
,
Mystery
,
Paranormal
Pages:
305
Format:
E-Arc
Source:
Netgalley
Buy on Amazon
Goodreads
Welcome to Midnight, Texas, a town with many boarded-up windows and few full-time inhabitants, located at the crossing of Witch Light Road and Davy Road. It's a pretty standard dried-up western town.
There's a pawnshop (where someone lives in the basement and runs the store during the night). There's a diner (although those folk who are just passing through tend not to linger). And there's new resident: Manfred Bernardo, who thinks he's found the perfect place to work in private (and who has secrets of his own).
If you stop at the one traffic light in town, then everything looks normal. But if you stay a while, you might learn the truth...
So after last week's mini review, the publisher sent me a full copy of Midnight Crossroad. Yay 🙂 This made me extremely happy, and as all my coursework has finally been handed in, I sat down and read it from cover to cover.
As stated in the mini-review the beginning of the book is slow as Harris introduces us to numerous characters and sets the scene in Midnight, however after all the introductions are made the pace picks up speed fairly quickly.
By using Manfred as one the main narrators, Harris enables the reader to discover the secrets of Midnight more easily as he joins the community (newbies have to stick together). All the Midnighters have a secret, some are quite mysterious, others are quite open in their abilities, others seem perfectly normal. Also just when you feel you can comfortably put everyone in their boxes something new and mysterious turns up.
Midnight is a small enough place for the reader to feel they know all the inhabitants but large enough that the secrets can remain hidden. The narrative moves between the characters which is easy to keep track of, as each character has a distinctive voice. By changing the character and the point of view Harris adds to the suspense of the mystery as not all the facts are known to all the characters.
The mystery over the murder of Bobo's girlfriend will keep you guessing to the end. And who it is? Harris enables all the characters to be suspicious and it is not until the very end that the murderer is revealed.
Midnight Crossroad is a really fun intriguing read, and sets the series up nicely. What will happen in Midnight next? Who knows, but what I do know is that I am eagerly anticipating the next one!
Subscribe to Blog via Email
Join 905 other subscribers