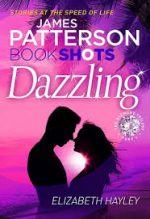 Dazzling
by
Elizabeth Hayley
,
James Patterson
Published by
BookShots
on November 3, 2016
Genres:
Contemporary
,
Fiction
,
Novella
,
Romance
Pages:
160
Format:
Paperback
Source:
Publisher
Buy on Amazon
Goodreads
James Patterson's BookShots. Short, fast-paced, high-impact entertainment.She's a starving artist and he's a billionaire playboy…
Siobhan came to New York with a purpose: she wants to become a successful artist. To pay her bills in the meantime, she's the hostess at The Stone Room, a bar for the beautiful and the billionaires. She was fine with being on her own – until tech billionaire Derick takes her breath away.
The premise for Dazzling was really good. But then Siobhan became a bit of a pain in the bum, constantly pushing Derrick around and grumbling about how much money he has. I felt that the relationship was a bit one sided and that Derrick was too excepting of Siobhan's faults.
Also, annoyingly there is a massive cliff-hanger. So huge that I honestly felt like they had just split the book into two. Just to fit in with this idea of a bookshot. And now rather than having a proper ending it is obvious that a second one is in the making. It was extremely frustrating and unsatisfying.  What is the point of reading a short story if it doesn't have a ending?
Dazzling was fast-paced and quite enjoyable but I just wanted some closure and a sense of a journey, of both Derrick and Siobhan accepting one another. Maybe this will happen next time?
Subscribe to Blog via Email
Join 905 other subscribers