I received this book for free from Netgalley in exchange for an honest review. This does not affect my opinion of the book or the content of my review.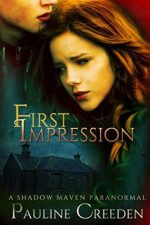 First Impression
by
Pauline Creeden
Series:
Shadow Maven #1
Published by
AltWit Press
on March 31, 2014
Genres:
Fantasy
,
Fiction
,
Mystery
,
Young Adult
Pages:
176
Format:
E-Arc
Source:
Netgalley
Buy on Amazon
Goodreads
Chira Kelly thought she didn't need anyone…until she met Ben.
Because of one ugly rumor, Chira lives as an outcast at her school. Which is fine with her, because she works better alone. Always has, always will. And at least she has her one and only true friend, Tasha. When Tasha insists that they join a group to visit a possibly haunted abandoned old schoolhouse, she's wary, but joins her friend. Because of that decision, their lives are in jeopardy as a malevolent spirit targets the group. Tragedies and accidents pick them off one by one, and Chira finds herself drawn to the one person who can see the truth. But can he protect her?
So I'm not really sure what to make of First Impression. It's not really a fantasy/paranormal. These elements are so minimal, in my opinion, that I was left wondering what was the point of having a paranormal element. That was until the end when it was revealed that this was the start of a series. And so, maybe in the later books there will be more relevant paranormal activity…
What was great about the book was that it wasn't the protagonist of the book who ran around being the hero and helping everyone, however what was annoying was that she wasn't a strong independent person. Instead she relies on everyone to help her. Or maybe I'm being a bit too judgemental on Chira.
The mystery and suspense of whodunnit is what actually carries this book forward. The suspense of who is targeting the group is interesting. Is it really a malevolent spirit or something/someone more sinister?
First Impression is an easy and quick read which is perfect for when you want to read and finish something on a journey. And while it did not have the wow factor, was an enjoyable read.
Subscribe to Blog via Email
Join 910 other subscribers