I received this book for free from Own Copy in exchange for an honest review. This does not affect my opinion of the book or the content of my review.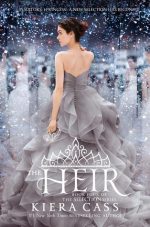 The Heir
by
Kiera Cass
Series:
The Selection #4
Published by
HarperTeen
on May 5th 2015
Genres:
Dystopia
,
Fiction
,
Romance
,
Young Adult
Pages:
342
Format:
E-Book
Source:
Own Copy
Buy on Amazon
Goodreads
Twenty years ago, America Singer entered the Selection and won Prince Maxon's heart. Now the time has come for Princess Eadlyn to hold a Selection of her own. Eadlyn doesn't expect her Selection to be anything like her parents' fairy-tale love story. But as the competition begins, she may discover that finding her own happily ever after isn't as impossible as she always thought.
As usual I end up on the bang wagon a lot later than everyone else. But let me just say The Heir is incredible. I loved that it was similar to the first three books, just told from a female perspective being perused by 30 men. But if you are after something original then turn away now. Because I can assure you that this not the book for you.
Eadlyn knows what she wants and a selection is not one of them. She will do anything in her power to make sure that she doesn't end up engaged and married. She will be a queen one day.  I love that she is brutal in getting rid of  the boys she doesn't want. She is herself through out and doesn't see why she should change for everyone else.
For me while there is some romance because of the situation – Eadlyn not wanting to be in a relationship – meant that what little romance there was, was forced. And I wasn't sure who to root for out of the Selection boys – was it Henri who could hardly speak English or Hale – something seemed off. Or Kile the unwilling suitor. Who is going to come out on top?
At the moment I'm not sure where this series is going. Is the Selection going to be successful or will everything go to pot?
The Heir is reality TV, addictive and compellingly good. That I just had to read from start to finish in one sitting. This is a page turner and is one of my guilty pleasures.
Subscribe to Blog via Email
Join 369 other subscribers