I received this book for free from Publisher in exchange for an honest review. This does not affect my opinion of the book or the content of my review.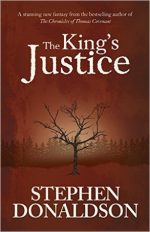 The King's Justice
by
Stephen R. Donaldson
Series:
The King's Justice
Published by
Gollancz
on June 30th 2016
Genres:
Fantasy
,
Fiction
Format:
Hardback
Source:
Publisher
Buy on Amazon
Goodreads
Stephen Donaldson devoted many years to his epic creation The Chronicles of Thomas Covenant. Now he is back with an all new novella; 40,000 words of richly imagined fantasy with beautiful world building and intense characterisation. The perfect read for existing fans and new readers alike.

A man on a horse, confident in his powers but alone, rides a long and lonely road through rain-soaked woods. But he is on a path that he knows and he is bringing much needed justice with him. Four guards stop him. But not for long.

Stephen Donaldson has clearly loved the opportunity to write an all new fantasy and this book is a timely reminder of the power of his writing; writing that inspired a generation of readers and authors alike.
I can see why everyone raves about The King's Justice, and I can see the potential. Don't get me wrong I can see that this is a good book. It was just a book that I should not have picked up. Everything  for me, was wrong and tedious.
But despite my dislike, it was strangely interesting. It managed to pull me in and keep me reading. To be honest it is a master class in characterisation. 
This is a smart and violent book that plays on the idea of revenge and justice.  How we can tell what is right and wrong. How justice can prevail even we, ourselves do not see it that way.
This is one book that I am glad to have to picked up, to at least get a sense of an old master at work. But it is too serious, too telling, too real in order for it to be a book that I can escape with.
I recommend picking it up and giving it a go. But if you are after something light, then The King's Justice is not for you.
Subscribe to Blog via Email
Join 369 other subscribers