Welcome to Through the LetterBox. So I think that it is fair to say now that I am a huge fan of  FairyLoot and this months theme was Emperors & Fugitives. This is a monthly subscription ya book box based in the UK.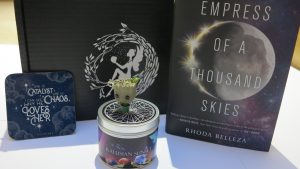 the box:
In each box you can expect:
One recently published Young Adult book,
4-6 goodies often related to the book,
promotional items such as posters, bookmarks and a signed bookplate (whenever possible),
 a unique hashtag that links you up with one other person receiving a box.
The box is £26 plus shipping at £3.95 (if UK based) bringing it to a grand total of £29.95. Again this box isn't again I wish that the shipping is including in the price because it is like a hidden extra.
I was super excited for this theme, because the theme 'Emperors & Fugitives' sounded really excited and the fact that the fairyloot team said ' If you're a fan of Rebel of the Sands, Guardians of the Galaxy (who doesn't love Groot?!), Illuminae and general rebeliousness then you are going to love this box.'. So after reading that I knew I was in for a treat.
The Unboxing:
Full Size Kalusian Sunset Candle: 

This was made exclusively for the box by Happy Piranha and it is a full size one! And  to make it extra special it was actually named by the author of the month.

R

ebel of the Sands Pouch

: 

Made exclusively for the box by Alisse Courtier. I have to be honest I have never read the book. But I quite like the calligraphy on the pouch and have already started using it for my work make-up…

B

aby Groot Guardians of the Galaxy Keychain: 

He is really really cute and you can get him to dance around in his pot which is cool.
Celestial Gunpowder Bath Bomb:

 Created exclusively for the box by Bathing Beauties.Which is cupcake scented. So not only does it smell amazing it has a really cool name.

Illuminae Quote Coaster:

Made exclusively for the box by Read At Midnight. I love this quote! And even if it is from Illuminae there are so many books this quote could relate to.
Space Girl Bookmark:

 Designed exclusively for the box by Till and Dill. Such a gorgeous, well made bookmark. There is some brilliant detailing. I don't think that its specific to a specific book.
Manon and Dorian Art Print:

This is a double sided print by Taratjah. Both sides feature Manon and Dorian from  Throne of Glass.
Empress of a Thousand Skies by Rhoda Belleza:

 God I am so excited for this book. Plus it came with a signed bookplate and an author letter (which genuinely made me cry it was so lovely)! I guessed it would be this one as well (getting really good at guessing the book).
Bonus Item: 

Extract of  The One Memory of Flora Banks by Emma Barr. Which came in a cute envelope.
This is the first time that I've loved everything in the box, and I found it really hard to pick my favourite items.
Let me know if you've received Emperors & Fugiatives Fairyloot Box. I'd love to know your thoughts. What was your favourite item? And was there anything you didn't like?
Subscribe to Blog via Email
Join 906 other subscribers