I received this book for free from Publisher in exchange for an honest review. This does not affect my opinion of the book or the content of my review.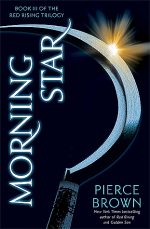 Morning Star
by
Pierce Brown
Series:
Red Rising #3
Published by
Hodder & Stoughton
on February 9, 2016
Pages:
524
Format:
Arc
Source:
Publisher
Buy on Amazon
Goodreads
#1 NEW YORK TIMES BESTSELLER • Red Rising thrilled readers and announced the presence of a talented new author. Golden Son changed the game and took the story of Darrow to the next level. Now comes the exhilarating conclusion to the Red Rising Trilogy: Morning Star.
Darrow would have lived in peace, but his enemies brought him war. The Gold overlords demanded his obedience, hanged his wife, and enslaved his people. But Darrow is determined to fight back. Risking everything to transform himself and breach Gold society, Darrow has battled to survive the cutthroat rivalries that breed Society's mightiest warriors, climbed the ranks, and waited patiently to unleash the revolution that will tear the hierarchy apart from within.
Finally, the time has come.
But devotion to honor and hunger for vengeance run deep on both sides. Darrow and his comrades-in-arms face powerful enemies without scruple or mercy. Among them are some Darrow once considered friends. To win, Darrow will need to inspire those shackled in darkness to break their chains, unmake the world their cruel masters have built, and claim a destiny too long denied—and too glorious to surrender.
There is not much that I need to say except Morning Star was pretty perfect! But this is a hard book to review without just gushing and fangirling over the perfection. But I'll try.
It's rare that a final book exceeds expectations, or at least is better than its predecessors but this one does. And it is brilliant with its epic battles and teasing scenes that play with the emotions far too well. Honestly I had to hide this book a couple of times so as not to admit what was happening. Unfortunately the story kept pulling me in so I had no choice but to go with what was happening.
I've never been so stressed and nervous about reading a book in my life. And while I can understand that this can be seen as a negative thing it shouldn't. I was compelled and pulled into reading this book.  Meaning I fell in love with the characters and felt like their life was completely real and that I was beside them.
I do feel that with so much going on it is best to reread the series as it can be confusing with who is betraying who and why certain characters hate each other and who has an alliance. There is a handy character list at the beginning but let's just use this as an excuse to read a fantastic series.
Expect to be torn to pieces and sewn back up again numerous times. Morning Star is a fantastic end to the series. But next time can we have more?
Subscribe to Blog via Email
Join 369 other subscribers