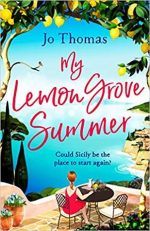 My Lemon Grove Summer
by
Jo Thomas
Published by
Headline Review
on July 11, 2019
Genres:
Chick-lit
,
Fiction
Pages:
352
Format:
E-Arc
Source:
Netgalley
Buy on Amazon
Goodreads
'Rich, warm and sunny. A story that stays with you long after the last page is turned' Milly Johnson

Could the lemon groves of Sicily be the perfect place to start over? The irresistible new novel from Jo Thomas, the author of Sunset Over the Cherry Orchard, will transport you to the island of mountains and sparkling blue seas.

When life hands you lemons ... is it ever too late for a second chance?

Zelda's impulsive nature has got her precisely nowhere up until now. A fresh start in a beautiful hilltop town in Sicily looking for new residents, together with her best friend Lennie, could be just what she needs. And who better to settle down with than the person who knows her best?

But the sun-filled skies and sparkling seas can't hide the shadow hanging over Citta d'Ora, which means not everyone is pleased to see their arrival. The dreams Zelda and her fellow new residents had of setting up a new life might be slipping away. But a friendship with restauranteur Luca could be about to unlock the possibilities that lie in the local lemon groves. And there's a wedding on the horizon that might be just what the town needs to turn it around...

Could a summer in Sicily help Zelda learn to trust her instinct and follow her heart?
Jo Thomas's My Lemon Grove Summer may be one of my favourite summer reads of the year. My Lemon Grove Summer is filled with  delicious food, gorgeous scenery and romantic moments.
We follow Zelda and Lennie as they make a fresh start on Sicily. Both have been best friends since they were little, and they have a pact that if they are single at aged forty they will get married. And so with, no love at first sight appearing on the horizon, they head to Sicily  to make this most of their options.
And Sicily sounds like a dream. They can relocate as part of a revitalisation project. And get paid for the opportunity. To Zelda it seems to0 good to be true. And when they get to the fresh start, it is not quite what it seems. The village is stuck in the past and the villagers seem unwilling to accept the newcomers.
However this is not going to stop Zelda, Lennie and the rest live out their dreams. The friendship between the characters are heartwarming and a joy to read about. This is a story that is all about love, friendship, family and second chances.
I devoured this book over one afternoon, with a glass of Pimms. And both go together so well. This is one read that you don't want to miss this summer. 
Subscribe to Blog via Email
Join 369 other subscribers