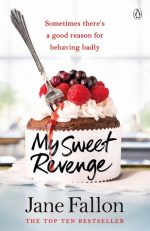 My Sweet Revenge
by
Jane Fallon
Published by
Penguin
on January 12th 2017
Genres:
Chick-lit
,
Fiction
,
Romance
Pages:
416
Format:
E-Arc
,
Paperback
Source:
Netgalley
,
Publisher
Buy on Amazon
Goodreads
I want to make my husband fall back in love with me.
Let me explain. This isn't an exercise in 1950s wifeydom. I haven't been reading articles in old women's magazines. 'Twenty ways to keep your man'. That couldn't be further from the truth.
I want him to fall back in love with me so that when I tell him to get the hell out of my life he'll care. He won't just think, 'Oh good'.
I want it to hurt.
Paula has had Robert's back since they got together as drama students. She gave up her dreams so he could make it. Now he's one of the nation's most popular actors. And Paula's just discovered he's having an affair.
She's going to remind Robert just what he's sacrificing. And then she's going to break his heart like he broke hers. It will be her greatest acting role ever.
Revenge is sweet. Isn't it?
My Sweet Revenge was a fun, clever and witty read. That proves that there is great fun to be had even when you are hell bent on revenge. I loved all the twists and turns in the story. I had no idea how everything would turn out. But I was rooting for Paula all the way, to show Robert what for. Mainly because I found Robert to be a bit of a prat so I quite enjoyed him getting his comeuppance. To be honest he deserved nothing less. And the fact that he like the awful Saskia really did him no favours. He was a typical idiot who can't see what is under their nose.
Paula was someone who I could really relate to. And I'm sure that there are others out there who could take some inspiration from Paula. By the end of the book she is a completely different person, and to use a cliche, she has been on a journey. She may have changed physically, but is it also her attitude and perseverance that really makes you want to wave your pom poms in the air.
The only downside to this book was the middle. I felt that in the middle the story was a bit flat. And while I pushed through and was rewarded by a brilliant ending. The middle was a struggle, as there were some big reveals and a change in tact and how the story was told. However I fell, hook, line and sinker for the ending. I thought that this book could not get any more twisted. But it did. And while I feel like a fool for taking the bait. This is what makes this book so so good. And proves that sometimes you have to keep pushing to get to something so satisfying.
My Sweet Revenge was a book that I was eager to read from the very moment I held it in my hands and I was not disappointed. It was everything that I wanted, this is one sweet book perfect to curl up with with a slice of cake and a cup of tea.
Subscribe to Blog via Email
Join 909 other subscribers