I received this book for free from Netgalley in exchange for an honest review. This does not affect my opinion of the book or the content of my review.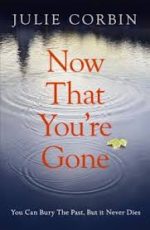 Now That You're Gone
by
Julie Corbin
Published by
Hodder & Stoughton
on June 5, 2014
Genres:
Fiction
,
Mystery
,
Thriller
Pages:
352
Format:
E-Arc
Source:
Netgalley
Buy on Amazon
Goodreads
From the author of DO ME NO HARM and WHAT GOES AROUND.Isla's brother, an ex-Marine and private investigator, has just been found drowned in the River Clyde. But Isla is convinced he was murdered.
The coroner declares it an accidental death. The police are happy to close the case. Determined to find out what really happened the night Dougie died, and what he was doing in Glasgow, she starts looking into his unsolved cases.
What she finds will put her in grave danger and force her to question everything she thought she knew about those closest to her . . .
'A twist laden, psychological thriller.' Reading in Bed
'This is very much a character driven novel with a strong and exciting mystery running through it.' BeadyJans Books
If you love this, look out for Julie Corbin's brand new psychological thriller HER WATCHFUL EYE. Available to pre-order now.
So in Now That You're Gone Isla is determined to find out how Dougie ended up in the river Clyde. She starts simply by looking around Dougie's house and visiting the site of his death. But soon she is in deeper than anticipated and she ends up questioning her relationship with her brother. How many secrets was Dougie hiding from her? Is he the person she thought he was?
But there are people who do not want her to find the truth. Isla  is stalked, attacked and threatened. Yet this does nothing to waiver her determination to find out the truth.
Isla grief punctures through the narrative as she remembers the memories she shared with Dougie and the questions she asks him which remain unanswered. These memories show the love Isla had for her brother and shows how much he has become a large part in her life and how much she relied on him. This shows effectively how much grief Isla feels over the death of her brother.
The disappointing thing about Now That You're Gone is the number of questions that remain unanswered. The parts of the story that were never tied up and left as loose ends. However while justice never seemed to be achieved Isla managed to find some closure – but at a cost.
Despite being a mystery, Corbin manages to convey an examination of how family relationships evolve over time, especially siblings.
Subscribe to Blog via Email
Join 910 other subscribers