I received this book for free from Publisher in exchange for an honest review. This does not affect my opinion of the book or the content of my review.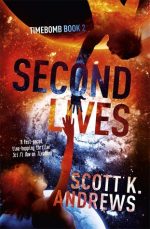 Second Lives
by
Scott K. Andrews
Series:
Timebomb Trilogy #2
Published by
Hodder & Stoughton
on May 19, 2016
Genres:
Fiction
,
Science Fiction
,
Young Adult
Pages:
368
Format:
Paperback
Source:
Publisher
Buy on Amazon
Goodreads
The adventure continues: time is in flux, and only Jana, Dora and Kaz can fix it. But can they trust each other?It began when three people from three different moments in history discovered that they could travel through time when they clasped hands. But the mysteries surrounding them have only deepened.
There are risks to tampering with established events... timelines become snarled, histories become tangled... and one false move could destroy time itself!
Jana, Kaz and Dora have escaped from their mysterious enemy, Quil, wounded and scared. Taking refuge in a place outside of time, they devise a plan to change the past, altering Quil's life so that she never meets them.From the streets of Beirut in 2010 to the domed cities of Mars in 2155 and beyond, the three teenagers fight for their future, and that of all humanity, by trying to rewrite the history of the person who has sworn to destroy them.
What could be more complicated - and important - than trying to save the world? As their feelings for each other grow stronger, though, Jana, Kaz and Dora find themselves at the centre of a different kind of battle. And when it comes to matters of the heart, there can be no real vict
This was a faster, action-packed, punched in the gut type book more than the last one. Timebomb was more about learning about the characters and some mysterious going ons whereas Second Lives is more about action and re-action.
This is a fun fast and furious story, that will keep you on your toes and keep you guessing about whether the trio can change the future? And who actually is Quil?
I really enjoyed this story and felt that the story was completed in the book, but it still left me wanting more and I cannot predict let alone say how this series is going to end. There are more secrets to reveal, more plots to unveil and some truths to expose.
Second Lives is an entertaining read, and one where you won't know whether you are coming or going. It's a huge step-up from Timebomb. It will leave you wanting more, it will leave you demanding more. And if you haven't read this series then what are you waiting for!
Subscribe to Blog via Email
Join 910 other subscribers