I received this book for free from Netgalley, Publisher in exchange for an honest review. This does not affect my opinion of the book or the content of my review.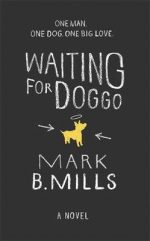 Waiting for Doggo
by
Mark Mills
Published by
Headline Review
on November 20, 2014
Genres:
Contemporary
,
Fiction
Pages:
224
Format:
E-Arc
,
Paperback
Source:
Netgalley, Publisher
Buy on Amazon
Goodreads
No-one ever called Dan a pushover. But then no-one ever called him fast-track either. He likes driving slowly, playing Sudoku on his iPhone, swapping one scruffy jumper for another. He's been with Clara for four years and he's been perfectly happy; but now she's left him, leaving nothing but a long letter filled with incriminations and a small, white, almost hairless dog, named Doggo. So now Dan is single, a man without any kind of partner whether working or in love. He's just one reluctant dog owner. Find a new home for him, that's the plan. Come on...everyone knows the old adage about the best laid plans and besides, Doggo is one special kind of a four legged friend...and an inspiration.
I had seen so many things about Waiting for Doggo on Twitter that when I saw it on Netgalley I instantly requested it (despite the day before promising myself that I wouldn't request more until I reduced my reading pile!), and wow what a book!
Both Dan and Doggo have lost someone they love, and while at the beginning of their relationship they are not particularly keen on one another, they soon learn to like and rely on one another.
Waiting for Doggo is about the finding of friendship, of letting go of the past and moving forward. It is about how our choices affect us and how sometimes how the choices we make will lead us on a completely different path to the one intended. Doggo is full of humour and witty insights, without being too contrite or annoying.
Dan may be the main character of the story but it is Doggo who steals the show with all his little quirks – he's a very knowledgable dog who is a little bit in love with Jennifer Aniston.  Doggo has a positive presence with everyone he meets and at times provides inspiration.
Waiting for Doggo is a feel-good which will have you smiling as you read. It also make me wish I could take my doggy to work, prehaps I should describe him as a mental health companion?
To be honest having just finished this book I want to read it all over again. May I?
Subscribe to Blog via Email
Join 910 other subscribers