I received this book for free from Netgalley in exchange for an honest review. This does not affect my opinion of the book or the content of my review.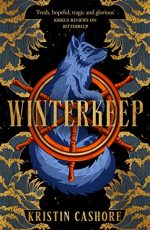 Winterkeep
by
Kristin Cashore
Series:
Graceling Realm #4
Published by
Orion
on January 21, 2021
Genres:
Fantasy
,
Fiction
,
Romance
,
Young Adult
Pages:
528
Format:
E-Arc
Source:
Netgalley
Buy on Amazon
Goodreads
Something is rotten in the heart of Winterkeep...
Four years after Bitterblue left off, a new land has been discovered to the east: Torla; and the closest nation to Monsea is Winterkeep. Winterkeep is a land of miracles, a democratic republic run by people who like each other, where people speak to telepathic sea creatures, adopt telepathic foxes as pets, and fly across the sky in ships attached to balloons.
But when Bitterblue's envoys to Winterkeep drown under suspicious circumstances, she and Giddon and her half sister, Hava, set off to discover the truth–putting both Bitterblue's life and Giddon's heart to the test when Bitterbue is kidnapped. Giddon believes she has drowned, leaving him and Hava to solve the mystery of what's wrong in Winterkeep.
Lovisa Cavenda is the teenage daughter of a powerful Scholar and Industrialist (the opposing governing parties) with a fire inside her that is always hungry, always just nearly about to make something happen. She is the key to everything, but only if she can figure out what's going on before anyone else, and only if she's willing to transcend the person she's been all her life.
I was super excited to read Winterkeep and cannot believe that it has been nearly 10 years since the last book. How time has flown. I loved that we are finally back in the world of the Graclings as I adored Graceling when it first came out.
For me Winterkeep was a different read to the previous books in the series. A sign perhaps of how the author has changed. Instead of focusing on one particular person we focus on several and instead of focusing on a female character, a lot of the book was told from Giddon's perspective. There is also something rather whimsical and magical about this book.
We also got to meet Lovisa who lives in Winterkeep. A place perhaps more like our, just with mind-speaking foxes. I loved her journey and how she changed as a person throughout the book. We also had Bitterblue's perspective and one of the foxes, whom I wanted to hear more from.
As a returning reader, I did not feel like I had to reread the previous books or even Bitterblue. But if you are a new reader to this series start with Bitterblue. And then read the rest! There are references to Bitterblue, that while explained may be better understood if you know where you are.
As aways this was a roaring adventure. Which also managed to cover a difficult subject of parental abuse and the abuse of power,  with sensitivity and perspective. I did feel that this was a darker book than previous but still one that I will love and cherish.
I loved Winterkeep. The mythical elements added to the story and I loved being in a different part of the Graceling world. I cannot believe how long it has been since the last book and here's hoping that we do not have to wait too long for the next one!
Subscribe to Blog via Email
Join 369 other subscribers