I received this book for free from Netgalley, Publisher in exchange for an honest review. This does not affect my opinion of the book or the content of my review.
The Roanoke Girls
by
Amy Engel
Published by
Hodder & Stoughton
on March 9th 2017
Genres:
Fiction
,
Mystery
,
Thriller
Pages:
288
Format:
Arc
,
E-Arc
Source:
Netgalley, Publisher
Buy on Amazon
Goodreads
A gripping, provocative thriller about the twisted secrets families keep, perfect for fans of The Girls. Beautiful. Rich. Mysterious. Everyone wants to be a Roanoke girl. But you won't when you know the truth. Lane Roanoke is fifteen when she comes to live with her grandparents and fireball cousin at the Roanoke family's rural estate following the suicide of her mother. Over one long, hot summer, Lane experiences the benefits of being one of the rich and beautiful Roanoke girls. But what she doesn't know is being a Roanoke girl carries a terrible legacy: either the girls run, or they die. For there is darkness at the heart of Roanoke, and when Lane discovers its insidious pull, she must make her choice...
When I read the bio for The Roanoke Girls, I was instantly intrigued and curious. How on earth was this going to play out? And how on earth would everything be solved?
While I thought that this book was incredible, the darkest of the story did not make it an easy read. There was times when it was quite uncomfortable to keep reading. The Roanoke family has some dark secrets, and a tragic past. All the girls in the family have either died or ran away.
The big secret is revealed very early on in the book, but the big mystery is not solved until the last few pages in the book. In my mind it was unguessable. And it left me reeling.
The interest of the reader is kept by interchanging between the past and the future. And occasionally we get a little history of all the Roanoke girls and their tragic story. Lane, our narrator, is by no means perfect, but the story makes her flaws more understandable, more relatable. There is a certain animosity between the reader and Lane as we try to untangle the secrets of the Roanoke family.
Unexpected, understated and completely ripped my heart out. The Roanoke Girls is a book that will take you by surprise and leave you utterly speechless.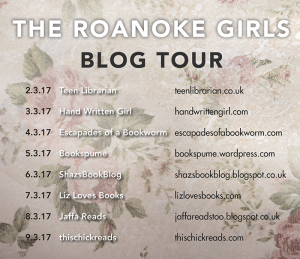 Subscribe to Blog via Email
Join 369 other subscribers