Welcome to Through the Letterbox.  I think that it is fair to say now that I am a huge fan of  FairyLoot. This is a monthly subscription YA book box based in the UK. This months theme was entitled Oh So Regal.
the box:
In each box you can expect:
One recently published Young Adult book,
4-6 goodies often related to the book,
promotional items such as posters, bookmarks and a signed bookplate (whenever possible),
 a unique hashtag that links you up with one other person receiving a box.
The box is £26 plus shipping at £3.95 (if UK based) bringing it to a grand total of £29.95. I wish that the shipping is including in the price because it is like a hidden extra. But I do think that this box is well worth the price.
This months theme was Oh  So Regal. "It's time to shine those crowns and dust those royal jewels because this winter it's going to get regal! The December 'Oh So Regal' box features items themed around our favourite royals. You'll find items themed on Disney, Shakespeare, Red Queen and more!"
the unboxing:
? A full size Disney Funko POP!  Six Pops where sent out. There were six possibilities – Simba, Tiana, Pocahontas, Rapunzel, Jasmine and Ariel!  I got Tiana, which was great because she was the only funko  out of the choices that I did not have.
? A 'Virtuous and Fair' pencil case designed by missphi. Perfect for pens or makeup brushes!
? A 'Power' notebook designed by Stella Bookish Art, which features a quote from Red Queen.
? A 'Books Rule' keychain brought to you by Fiction Tea Designs – it's the perfect keychain for any bookworm!

? A 'Prince' candle from Court of Candles–  there was four options – Prince Aladdin, Prince Adam, Prince Charming and Prince Eric. I got Prince Eric. As a subscriber there is also the option of buying the full size version!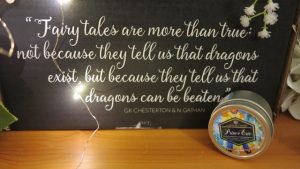 ? Our featured book of the month was Everless, by Sara Holland!  It also came with a signed bookplate, interview and letter from the author!And most excitingly we all received it two weeks early! This book I am really excited to read and cannot wait to get started.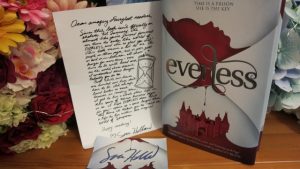 ? Bonus items: War Storm bookmark and Rosemarked sampled.
Let me know if you've received Oh So Regal Fairyloot Box. I'd love to know your thoughts. What was your favourite item?  And was there anything that you didn't like?
Subscribe to Blog via Email
Join 910 other subscribers