Welcome to Through the Letterbox. Illumicrate is a quarterly subscription box.  This is the frist box that actually has a theme for the box which is Rise Up and is pretty awesome. It was a jam packed box and had so many items in it that there was a slight delay in the box shipping.
the box:
In each box you can expect:
One recently published  book,
3-5 goodies often related to the book,
promotional items such as posters, bookmarks and a signed bookplate (whenever possible),
 anddddddddd an Advanced Reader Copy of a highly anticipated book!!
The box is £29.99 plus free shipping  (if UK based).  For international shipping, depending where you live its between  £4.99 – £13.99. But I can promise you that this box is well worth the price.
the unboxing:
 Blood and Sand by C.V.Wyk which is a re-imagining of the story of Spartacus, if Spartacus was a young women. The book also came with a  a signed bookplate, a badge, a bookmark and a temporary tattoo.
  The Smoke Thieves by Sally Green  which I am so excited to receive. Not only is it an ARC, but it is also Sally Green's new book and a start of a brand new series.  Aaaggghh I'm so excited!
Fight the Darkness Cushion Cover

from stellabookishart – So long as you fight the darkness you stand in the light'  a quote from Ember in the Ashes series from Sabaa Tahir – I still need to read this series but when I read good quotes like this it just makes me want to have the book in my hands right now!
Inimitable Mug

by abbieimagine with the quote 'I am inimitable, I am an original' is from Hamilton, a musical I really want to see. Despite not having seen the musical, I really love this quote and how bright the mug is.
Dagger bookmark

from  rdashjackdomcom.  This is one of my favourite item of the box! This is a wooden bookmark in the shape of a dagger, and has the quote:'Isn't that what stories do, make real things fake, and fake things real?' from The Winner's Curse Trilogy by Marie Rutkoski. I really like this quote, and the bookmark is also really detailed – the picture doesn't do it justice.
Lunar Lip Balm

from lovely_lip_balm A red cherry flavoured lip balm called 'Scarlet', based on the Lunar Chronicles series. Again, another book series I haven't read but everyone can appreciate some delicious smelling lip balm.
Phoenix Magnet

from hannahhitchmanart. This is Harry Potter related and has writing on it that says 'I'm in the Order', a reference to the Order of the Phoenix.
The

Truth and Lies of Ella Black Compact Mirror.

A sweet little compact mirror.
The

Hazelwood Notebook and pen

.  I love how the pen is built in. And to make the item even better the book was part of February's Fairyloot Box so its nice to have merch relating to a new book.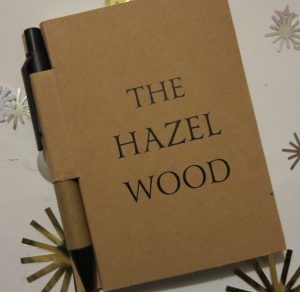 Extras:

Strange the Dreamer Postcard, Witchsign bookmark, Shatter Me and Clean samplers
Also make sure you check out Illumicrate on Twitter @Illumicrate Facebook and Instagram @Illumicrate
Let me know if you've received Rise Up Illumicrate Box. I'd love to know your thoughts. What was your favourite item?  And was there anything that you didn't like?
Subscribe to Blog via Email
Join 910 other subscribers