I received this book for free from Publisher in exchange for an honest review. This does not affect my opinion of the book or the content of my review.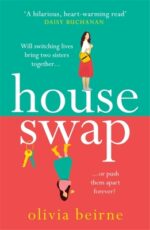 House Swap
by
Olivia Beirne
Published by
Headline
on February 1, 2022
Genres:
Fiction
,
Chick-lit
Pages:
352
Format:
Paperback
Source:
Publisher
Buy on Amazon
Goodreads
'I can't praise it enough, it's perfect summer reading' LUCY VINE'A hilarious, heart-warming read' DAISY BUCHANAN
You can learn a lot about someone when you swap houses. . .___________________________________________________
Twins Katy and Rachel don't know much about each other's lives anymore.
Rachel thinks that Katy is a high-flying event planner in London, while Katy thinks that Rachel lives in idyllic marital bliss in the countryside.
Each sister believes the other has created a perfect life - but the truth is that neither twin has the life she pretends she does.
And when these sisters unexpectedly swap houses for a week, they're in for a big shock.
But it might just be the wake-up call they've both been waiting for. . .
Packed hilarity and heartbreak, this new novel from bestselling author Olivia Beirne follows two estranged sisters who learn more about each other from a house swap than they ever expected... Perfect for fans of Beth O'Leary and Marian Keyes.___________________________________________________
Readers are LOVING House Swap!
'Olivia is an assured writer with great comic timing' SHEILA O'FLANAGAN
'I loved House Swap - it's a heart-warming story of sisterhood in several forms'ZOË FOLBIGG
'A story of love, friendship and family, whose characters you will fall in love with immediately!'EMILY HOUGHTON, AUTHOR OF BEFORE I SAW YOU
'A charming, uplifting read . . . Delightful'ROXIE COOPER, AUTHOR OF THE DAY WE MET
'Olivia's books always make me laugh out loud and her latest is no exception'EMMA COOPER
'A properly uplifting read . . . [a] wonderful, joyous tale of self-growth and forgiveness, complete with a perfect measure of romance too'PERNILLE HUGHES, AUTHOR OF PROBABLY THE BEST KISS IN THE WORLD
'This book is heart-warming, life affirming and is guaranteed to make you smile - I loved it!'NETGALLEY REVIEWER, 5 stars
'This book made me laugh, cry and swoon'NETGALLEY REVIEWER, 5 stars
'A perfect story of families and finding your way through life'NETGALLEY REVIEWER, 5 stars
'A fabulous bit of writing'NETGALLEY REVIEWER, 5 stars
'Made me laugh, cry and swoon!'NETGALLEY REVIEWER, 5 stars
'Loved this book!'NETGALLEY REVIEWER, 5 stars___________________________________________________
Discover why readers LOVE Olivia Beirne. . .
'A mesmerising blend of humour and emotion'WOMAN & HOME
'A perfect mix of humour and heart'EMMA COOPER, AUTHOR OF THE SONGS OF US
'An uplifting read that leaves you on a high'AMAZON READER REVIEW
'A proper feel-good, heart-warming, very natural and relatable story'KIM NASH (KIMTHEBOOKWORM)'I thoroughly enjoyed this book and couldn't put it down'AMAZON READER REVIEW
'A gorgeous life-affirming read'HAYLEY'S BOOK BLOG___________________________________________________
Olivia Beirne' novels The List That Changed My Life and The Accidental Love Letter are available to buy now!
I was initially drawn to House Swap because it is about two sisters who swap houses. As my sister has recently got her own home the fact this book landed on my lap felt a bit like fate. It was definitely one that I had to read and find out more.
This is a story about showing that grass is not always greener on the other side. Sometimes what you wish for is exactly what you do not want.  The two sisters are estranged and on the outside worlds a part. You just know that this is going to be a catastrophe in the making. But will this swap actually bring the two sisters closer together?
This is a story about being honest with each, about family and love and understanding.
House  Swap is a book that will pull on your heartstrings with the fabulous characters, the hilarious moments and the many, many miscommunications. This was an enjoyable book and definitely worth a read!
Subscribe to Blog via Email
Join 910 other subscribers