I received this book for free from Tandam Collective in exchange for an honest review. This does not affect my opinion of the book or the content of my review.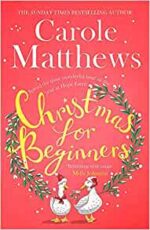 Christmas for Beginners
by
Carole Matthews
Published by
Sphere
on October 29, 2020
Genres:
Chick-lit
,
Christmas
,
Fiction
,
Romance
Pages:
416
Format:
Hardback
Source:
Tandam Collective
Buy on Amazon
Goodreads
The gloriously festive sequel to readers' favourite and Sunday Times bestselling novel Happiness for Beginners
SPEND THE MOST WONDERFUL TIME OF THE YEAR AT HOPE FARM . . .
Christmas is fast approaching at the new Hope Farm. Owner Molly Baker has been convinced to organise an open day to raise some much-needed funds ahead of the New Year, but the nativity tableau is proving challenging. With anti-social sheep, awkward alpacas and a seriously sequined Santa Claus to assemble, Molly is feeling overwhelmed, and in desperate need of some Christmas spirit . . .
Despite the chaos of the farm getting in the way of her event planning, Molly is looking forward to spending the holidays with Shelby and Lucas, hopeful that a happy family Christmas is exactly what they need to draw them all together. But while she is busy making plans on the farm, Shelby, it seems, has ideas of his own.
As the nativity draws near, the team are working hard to pull off a spectacular festive fete - and make sure the animals and humans remain on their best behaviour. Will this Christmas be merry and bright, or is there more than one surprise in store for Hope Farm?
A must-read festive tale from the queen of fun-filled and life-affirming fiction, Christmas for Beginners is the PERFECT winter treat!
I actually read Christmas for Beginners last year, but then Christmas came and when and its a bit strange to post a review of a Christmas book in February. Or maybe I'm the one being strange?
Hope Farm has been the focus of other books by Carole Matthews, but haven't not read them I didn't feel that I had missed out. There was another detail provided that there were no questions hanging over your head as you try to puzzle out missing details.
This was a cheesy super Christmassy book that was a pleasure to read.
Christmas for Beginners was a cute, fun read that made me feel right at home. I loved reading all about Hope Farm and all the crazy animals. I'm super hopeful that we get to visit the farm again. And I am definitely picking up other Hope Farm books.
Subscribe to Blog via Email
Join 369 other subscribers