I received this book for free from Netgalley, Publisher in exchange for an honest review. This does not affect my opinion of the book or the content of my review.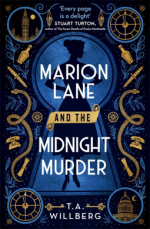 Marion Lane and the Midnight Murder
by
T.A. Willberg
Series:
Marion Lane #1
Published by
Trapeze
on June 10, 2021
Genres:
Fiction
,
Fantasy
,
Historical
,
Mystery
,
Thriller
Pages:
336
Format:
E-Arc
,
Hardback
Source:
Netgalley, Publisher
Buy on Amazon
Goodreads
They were a band of mysterious private detectives who lived beneath the streets of London in a labyrinth of twisted tunnels and ancient hallways, the entrance to which no one had ever found. The Inquirers were something of a myth, a whispered legend that may or may not exist, depending on whom you asked. They were like ghosts, some said, these sleuths who guarded the city...
London, 1958:
Elaborately disguised and hidden deep beneath the city's streets lies the world of Miss Brickett's, a secret detective agency, training and housing the mysterious Inquirers. From traversing deceptive escape rooms full of baited traps and hidden dangers, to engineering almost magical mechanical gadgets, apprentice detectives at Miss Brickett's undergo rigorous training to equip them with the skills and knowledge they will need to solve the mysteries that confound London's police force.
But nothing can prepare 23-year-old apprentice Marion Lane for what happens after the arrest of her friend and mentor Frank on suspicion of murder: he has tasks Marion with clearing his name and saving his life. Her investigation will place Marion and her friends in great peril as they venture into the forbidden maze of uncharted tunnels that surround Miss Brickett's.
Being discovered out of bounds means immediate dismissal, but that is the least of Marion's problems when she discovered that the tunnels contain more than just secrets...
Marion Lane and the Midnight Murder is the first installation in a fantastical historical mystery series for fans of Stuart Turton's The Seven Deaths of Evelyn Hardcastle and Natasha Pulley's The Watchmaker of Filigree Street.
Marion Lane and the Midnight Murder was an intriguing book to read. I was initially drawn to this book by the cover. There was something appealing and mysterious about the book. I was also intrigued by the blend of historical fiction and fantasy.
For me there were moments when the book dragged and I struggled to stay motivated. But I did continue, which meant that the effort was worth it as there were some bits that had me on the edge of my sit.
There is a lot of information to get through and it is this that slows the pace of the story. I also found Marion a little hard to sympathise with and some of the other characters I struggled to tell who was who.
Overall Marion Lane, was okay, it wasn't the thrill-seeker I was after. But was a solid enough debut and I am super intrigued to read the next book. Hopefully the next book will be more fast-paced.
Subscribe to Blog via Email
Join 369 other subscribers