I received this book for free from Netgalley, Publisher in exchange for an honest review. This does not affect my opinion of the book or the content of my review.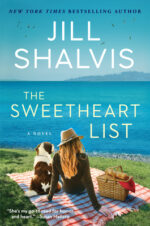 The Sweetheart List
by
Jill Shalvis
Series:
Sunrise Cove #4
Published by
Headline
on June 13, 2023
Genres:
Fiction
,
Chick-lit
,
Contemporary
,
Romance
Pages:
352
Format:
E-Arc
,
Paperback
Source:
Netgalley, Publisher
Buy on Amazon
Goodreads
New York Times bestselling author Jill Shalvis returns to Sunrise Cove with a beguiling, lighthearted story about fresh starts, second chances and true love.
When Harper Shaw's life falls apart, she knows it's time for a change. She removes everything that doesn't spark joy—from her soul-sucking job to eating kale to making lists—and sets off for the last place she was happy, Lake Tahoe (who wouldn't feel good there, right?) to fulfill her dream of opening her own bakery.
With her Sugar Pine Bakery in between a tavern, owned by sexy, grumpy Bodie Campbell, and a bookstore, run by her new BFF, she feels a peace she's never experienced since…well, forever.. Then she meets Ivy, a teenage runaway, who barrels into her heart. She sees a lot of herself in Ivy and takes her under her wing, but the teenager has secrets…
When those secrets explode, it changes Harper's new world, and she'll learn, it's never too late to start over, it's never too late to figure out your life, and best of all, it's never too late to let yourself believe in love.
The Sweetheart List is another amazing book by Jill Shalvis, set in the Sunrise Cove series.  I am currently sat here on holiday having devoured this book. Okay, I may have stayed up all night…
I was pulled in to Harper, Ivy and Brodie's story straight away. While Harper is out main character, I enjoyed reading about Ivy and Brodie. I felt that it was so easy to connect with them and understand their story. I felt like I already knew who they were.
There were some moments that created emotional drama that which then turned to heartwarming moments that put a smile on my face and instantly made feel good.
This is a holiday read at its best with short chapters, witty dialogue and characters who are so relatable. I loved every moment. The Sweetheart List is definitely a book that reminds me why I love reading.
I should say while this is the fourth book in this series you do not have to read in any order or have read the pervious books, I seem to have missed out the third book? However the setting is the glue in this series.
The Sweetheart List may be my new favourite book by Jill Shalvis! I cannot wait to forget this book so I can experience it all again.
Subscribe to Blog via Email
Join 369 other subscribers