Today I am delighted to be part of the Blog Tour for Wishbones by Virginia Macgregor. Where Virginia will be talking about 6 Secrets behind Wishbones. Will you be able to guess them?
This is a book, an author who has been on my to read list for ages. I've not yet been able to read this book but when I do I know it is going to be epic.  Don't forget to visit other blog stops along the tour for other great content.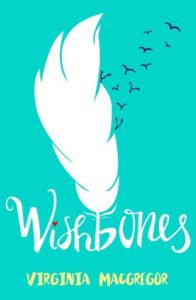 Below Virginia shares some of the 6 secrets behind the creation of Wishbones.
Six Secrets:
A few years ago I went on holiday to Austria with my husband and we visited a farm with some baby goats. I fell in love with their gorgeous quirkiness and immediately wanted to take one home. Sadly, British Airways doesn't allow for the transportation of pet goats, so I did the next best thing: I wrote one into a novel. Which is how Houdini, the mischievous goat, was born.
A while back I read a really sad newspaper article about a woman who was so severely obese that, when she died, she had to be lifted out of her house through her bedroom window by a crane. It triggered an image for me of Feather's mum and so beginning of the Wishbones began to spin in my imagination.
I love original names. My two daughters are called Tennessee Skye (3 years old) and Somerset Wilder (5 weeks old). I love names which are unique and which echo all kinds of different meanings, which is why I thought of the name Feather, which, I hope you'll agree is perfect for the main character of Wishbones. I love that the dust jacket designer picked up on the image of her name too. If you want to know more about my thoughts on naming my daughters and my characters, you can read a blog post I wrote about it on my website.
There's a fancy dress shop called Bewitched in the small English town where I used to live. The window display is always full of the most amazing costumes and I've often thought it would be fun to work there. It inspired me to include Mrs Zas's shop.
In my first teaching job, I encountered a boy with anorexia and realised how difficult it was for guys who suffer from eating disorders to find support. That's why I wanted to tackle it in one of my novels.
I spent most of my teenage years falling in love with boys who didn't love me back so I can totally understand how Feather feels!
Subscribe to Blog via Email
Join 910 other subscribers