Welcome to Through the LetterBox. So I think that it is fair to say now that I am a huge fan of  FairyLoot and I loved the idea of Dreams & Wishes. This is a monthly subscription ya book box based in the UK.
the box:
In each box you can expect:
One recently published Young Adult book,
4-6 goodies often related to the book,
promotional items such as posters, bookmarks and a signed bookplate (whenever possible),
 a unique hashtag that links you up with one other person receiving a box.
The box is £26 plus shipping at £3.95 (if UK based) bringing it to a grand total of £29.95. I wish that the shipping is including in the price because it is like a hidden extra. But I do think that this box is well worth the price.
I was super excited for this theme, because the theme 'Dreams & Wishes' was so vague but so tantalising especially when Fairy Loot said that this box was perfect for fans of A Court of Mist and Fury and The Bone Season."
the unboxing: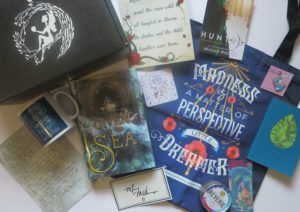 The Book – Given To The Sea by Mindy McGinnis, including signed bookplate and author letter.
Exclusive FairyScoop with author interview and collectable bookmark – these bookmarks I'm really excited about because last month Fairyloot revealed that there would be a purpose to the book mark and I want to know!
Exclusive 'To The Stars' Ceramic Mug designed by @risarodil that is dishwasher and microwave safe! I honestly think this has become my new favourite mug and I cannot wait to use it and read anything Sarah J Maas with it.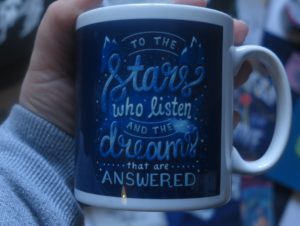 Gemstone Notebook by @porticodesigns! It had gorgeous holographic and gold page detailing. There are twelve designs. I got the one for August which I love, but so frustrating because my birthday is July. So so close.
 Exclusive 'Little Dreamer' Tote Bag designed by @missphi and based on The Bone Season! I love this quote. I've yet to read the series but when I see items like this it makes me desperate to get down my TBR pile because so so gorgeous.
 Exclusive 'Reverie' Candle by the wonderful Meraki Candles that smells divine! Reverie is a state of being pleasantly lost in one's thoughts; a daydream. Basically the perfect candle for a distracted bookworm.
 Exclusive Follow Your Dreams Magnet created by Fairyloot itself to us to remind you to follow your dreams everyday!
Plus Bonus items: Hunted and Spindle Fire cards
This is the first time that I've loved everything in the box, and it has to be the first time when I cannot pic three favourites. I loved everything!!
Let me know if you received a Dreams & Wishes Fairyloot box. I'd love to know your thoughts. What was your favourite item? And was there anything you didn't like?
Subscribe to Blog via Email
Join 910 other subscribers