I received this book for free from in exchange for an honest review. This does not affect my opinion of the book or the content of my review.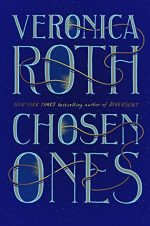 Chosen Ones
by
Veronica Roth
Series:
The Chosen Ones #1
Published by
Hodder & Stoughton
on April 7, 2020
Genres:
Dystopia
,
Fantasy
,
Fiction
,
Young Adult
Pages:
400
Buy on Amazon
Goodreads
Fifteen years ago, five ordinary teenagers were singled out by a prophecy to take down an impossibly powerful entity wreaking havoc across North America. He was known as the Dark One, and his weapon of choice - catastrophic events known as Drains - leveled cities and claimed thousands of lives. The Chosen Ones, as the teens were known, gave everything they had to defeat him.
After the Dark One fell, the world went back to normal . . . for everyone but them. After all, what do you do when you're the most famous people on Earth, your only education was in magical destruction, and your purpose in life is now fulfilled?
Of all the five, Sloane has had the hardest time adjusting. Everyone else blames the PTSD - and her huge attitude problem - but really, she's hiding secrets from everyone . . . secrets that keep her tied to the past and alienate her from the only four people in the world who understand her.
On the tenth anniversary of the Dark One's defeat, something unthinkable happens: one of the Chosen Ones dies. When the others gather for the funeral, they discover the Dark One's ultimate goal was much bigger than they, the government, or even prophecy could have foretold - bigger than the world itself.
And this time, fighting back might take more than Sloane has to give.
I was super excited to read the Chosen Ones, a more grown up Divergent what is there not to like? And yes I know Roth's history when it comes to characters, but that doesn't stop me.
We follow the lives of the five Chosen Ones, more specifically Sloane, from who's perspective the story is told. Sloane is a young woman, slightly broken from her ordeal with the Dark and is feeling a little lost.
For the first three quarters of the book, I could have easily put it down and DNFed. I was confused and I felt like there was too much back story to get through. Although I did like how this was told via documents in alternative chapters. But initially I didn't care. I felt like there could have been a book before this and this was the second book. You know?
But I persisted and the last quarter was phenomenal. I could not put the book down as I needed to know how it all ended. All the threads were coming together and the plot started to make sense. But it was very much a case of too little too late.
Also while Sloane did grow on me, I personally had a more insta connection with secondary character Albie and I am sad that we did not get to see more of him.
However, that will not stop me in reading the next book in the series. After all I need to find out how the guys will get on and how they will resolve the further issues that have arisen. Which is frustrating as the ending was actually really satisfying but there is the potential for so much more.
Overall, The Chosen Ones was a well written book, but there was so much set up to it that it was a struggle to really get into the reading zone. And then once I got over that hurdle it ended. Any advise of how to get over this would be greatly appreciated.
Subscribe to Blog via Email
Join 369 other subscribers