I received this book for free from Netgalley in exchange for an honest review. This does not affect my opinion of the book or the content of my review.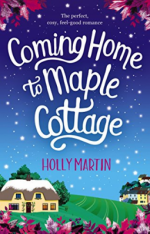 Coming Home to Maple Cottage
by
Holly Martin
Series:
Sandcastle Bay #3
Published by
Bookouture
on September 28, 2018
Genres:
Chick-lit
,
Contemporary
,
Fiction
,
Romance
Pages:
264
Format:
E-Arc
Source:
Netgalley
Buy on Amazon
Goodreads
This utterly addictive new novel from bestselling author Holly Martin will make you smile until your cheeks hurt, sob tears of pure joy and fall head over heels in love with a totally unforgettable romance…

Isla Rosewood is creating a new life for herself and her sweet nephew Elliot in their cosy, yellow-brick family cottage, brimming with special memories. Living in Sandcastle Bay was never part of Isla's plan but, after her brother Matthew's tragic accident, her whole world changed as she unexpectedly became a mother to the little boy she adores so much.

Leo Jackson was always known as Matthew's fun-loving and wild best friend. But now Matthew is gone, it's time to put his colourful past behind him. His role as Elliot's godfather is the most important thing to him. And even though Leo and Isla are two very different people, they both want to give Elliot the childhood he deserves.

As the three of them enjoy time together watching fireworks, baking cakes and collecting conkers, Isla begins to see a softer side to charming Leo, with his twinkling eyes and mischievous sense of humour. And, despite herself, she begins to fall for him.

But does Leo feel the same way? Isla knows their situation is complicated but is it too complicated for true love… or will the year end with a happy new beginning for them all?

A glorious, feel-good romance that will make you want to snuggle up under a warm blanket with a hot chocolate and the one you love. If you enjoy reading Sarah Morgan, Jenny Oliver and Lucy Diamond this book is for you.
So this is another cracker of a book from Holly Martin. Although Coming Home to Maple Cottage has to be probably one of the most touching story by her that I have read. I may have shed a tear or two with this story as the emotion of Isla  and her quest to protect Elliot got the better of me.
This was a beautiful story that was warm and touching and beautifully told. I enjoyed the autumnal feeling of this book, with Halloween, pumpkin making and much more featured,
Coming Home to Maple Cottage was a treasure of a book to read as the stories of all three couples show the true meaning of friendship, family, love and sticking together.
I am sad that these couples have had their stories told, but I am hoping that Holly will tell of the romance of Agnes and her Italian Stallion Stefezzo – that will be a book that would be hilarious and have us constantly in stitches. As I have to be honest Agnes stole the show with her one liners, and determination to embarrass her nephews.
Leo and Isla, proved to be a great couple and all I can say is roll on the next Holly Martin book!
Subscribe to Blog via Email
Join 369 other subscribers