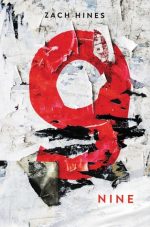 Nine
by
Zach Hines
Published by
HarperTeen
on August 7, 2018
Genres:
Dystopia
,
Fiction
,
Science Fiction
,
Young Adult
Pages:
360
Format:
Arc
Source:
Publisher
Buy on Amazon
Goodreads
In an alternate world startlingly close to our own, humans have nine lives—and they can't wait to burn straight through them.

As you shed lives, you shed your awkward phases: one death is equal to one physical and mental upgrade. Julian's friends are obsessed with the idea of burning lives, but Julian is determined to stay on his first for as long as he can. His mother, the ultimate cautionary tale, burned through her first eight in just a few years, and Julian has no intention of succumbing to the debilitating rebirth sickness that she inflicted on herself.

But the regime has death incentives aimed at controlling overpopulation, and Julian realizes that he's going to have to burn at some point—especially when he becomes a target for Nicholas, the manipulative leader of the Burners, the school's suicide club. And when Julian eventually succumbs, he uncovers suspicious gaps in the rebirth system that may explain exactly why his mother went so far down the rabbit hole years ago. Along with a group of student dissenters, Julian sets out to find answers and is soon on the verge of exposing the greatest conspiracy ever unleashed on the world.

He has just eight more lives to uncover the brutal truth.
So it was the synopsis of Nine by Zach Hines story that interested me. Each person, has nine lives, nine chances at life. But while that sounds like an idyllic situation, underneath something sinister is happening.
The idea of someone, burning lives, before scheduled, created a slightly eerie atmosphere. It was slightly sickening to think of people killing themselves, throwing aware lives, for the sake of it.
To make the situation more dire, those who are killing them themselves, or in this story, burning their lives, are teenagers. Bullied into it by the glamour, the peer pressure and in some situations literally pushed in it, the Burners are an elite group.
Julian, the protagonist in this story, is on his first life. He doesn't want to burn. All he wants is to find out what happened to his mum. But to find out, he will have to go on a journey of discovery, quite literally and join in with the burns.
But will Julian be able to uncover the conspiracy and what actually is going on in the lake, or will he burn through all his lives?
This was an enjoyable read, but there were a couple of points that brought it down. Maybe I missed something but how was Julian able to call the bugs, and why did it take so long to speak / find his best friend? Also I felt like the beginning was good, but then the middle dragged and then we rushed at the end. I didn't feel like there was a naturally flow to the story.
However Nine by Zach Hines was an interesting read, with a fantastic concept, that will keep you hooked until the very end.
Subscribe to Blog via Email
Join 369 other subscribers