I received this book for free from Fairyloot, Netgalley in exchange for an honest review. This does not affect my opinion of the book or the content of my review.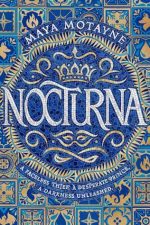 Nocturna
by
Maya Motayne
Series:
A Forgery of Magic #1
Published by
Hodder & Stoughton
on May 2, 2019
Genres:
Fantasy
,
Fiction
,
Young Adult
Pages:
300
Format:
E-Arc
,
Hardback
Source:
Fairyloot, Netgalley
Buy on Amazon
Goodreads
The first in a sweeping and epic own voices debut fantasy trilogy—set in a stunning Latinx-inspired world—about a face-changing thief and a risk-taking prince who must team up to defeat a powerful evil they accidentally unleashed. Perfect for fans of Tomi Adeyemi, Leigh Bardugo, and V. E. Schwab.

To Finn Voy, magic is two things: a knife to hold under the chin of anyone who crosses her…and a disguise she shrugs on as easily as others pull on cloaks.

As a talented faceshifter, it's been years since Finn has seen her own face, and that's exactly how she likes it. But when Finn gets caught by a powerful mobster, she's forced into an impossible mission: steal a legendary treasure from Castallan's royal palace or be stripped of her magic forever.

After the murder of his older brother, Prince Alfehr is first in line for the Castallan throne. But Alfie can't help but feel that he will never live up to his brother's legacy. Riddled with grief, Alfie is obsessed with finding a way to bring his brother back, even if it means dabbling in forbidden magic.

But when Finn and Alfie's fates collide, they accidentally unlock a terrible, ancient power—which, if not contained, will devour the world. And with Castallan's fate in their hands, Alfie and Finn must race to vanquish what they have unleashed, even if it means facing the deepest darkness in their pasts.
Nocturna is a magical Latinx inspired world. We follow Alfie, a prince who is not accepting of his future and has a magical door knob… and Finn, a thief who can change faces.
Both wish to escape. Alfie does not accept that his brother is dead and does everything he can to prove that he is right. Finn wishes to escape her past. One fateful night, when both believe that their goals are in sight, a dark magic is released. And instead of  fighting for their own causes they have to come together.
Alfie and Finn join forces to battle with a dark magic to save their kingdom. 
The magic system is so different to anything that I have read before. I loved how the magic effects each person different. Giving them a magical ability that only they can use to influence the world. Each magical ability has its own limitations. Meaning that no one control and power are the same.
This is a great debut that sucked me in. I was so sad when I finished this, so when I went on Goodreads and saw that this is part of a series, I literally jumped for joy. This felt like such a standalone book, that I'm not really sure how the next book will play out, but….
This unlikely alliance will pull you in and sweep you off your feet. I devoured ever page of Nocturna and cannot wait for the next instalment.
Subscribe to Blog via Email
Join 369 other subscribers