I received this book for free from Netgalley in exchange for an honest review. This does not affect my opinion of the book or the content of my review.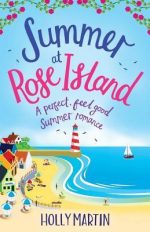 Summer at Rose Island
by
Holly Martin
Series:
White Cliff Bay #3
Published by
Bookouture
on May 13, 2016
Genres:
Chick-lit
,
Fiction
,
Romance
Pages:
338
Format:
E-Arc
Source:
Netgalley
Buy on Amazon
Goodreads
Fall in love with the gorgeous seaside town of White Cliff Bay this summer and enjoy long sunny days, beautiful beaches and... a little romance. Darcy Davenport is ready for a fresh start. Determined to leave a string of disastrous jobs and relationships behind her, she can't wait to explore White Cliff Bay and meet the locals. As Darcy begins to swim daily in the crystal clear waters, she discovers the charming Rose Island lighthouse. But it's not just the beautiful building that she finds so intriguing... Riley Eddison doesn't want change. Desperate to escape the memories of his tragic past, he lives a life of solitude in the lighthouse. Yet he can't help but notice the gorgeous woman swimming every day. Darcy is drawn to the mysterious and sexy Riley, but when it seems the town is trying to demolish his home, she soon finds herself having to pick sides. She's fallen in love with White Cliff Bay. But is that all Darcy's fallen for? Pull up a deck chair, sink back with a bowl of strawberry ice cream and pick up the summer read you won't be able to put down. Read what everyone is saying about the White Cliff Bay series: 'I loved this sweet and gentle holiday love story and the descriptions of the cottage and the village made me feel like I was in White Cliff myself.' "For the Love of Books" 'This whole book is just the most perfectly adorable, squishy, fluffy, festive, romantic and wonderful story!' "Paris Baker's Book Nook" 'Holly's stories are always filled with a little bit of magic and lots and lots strong relationships that make you all warm and fuzzy inside.' "Silke Reads and Writes" 'I literally devoured it in one sitting ... absolutely bulging at the seams with feel good factor.' "Voracious Reader" 'I very quickly lost myself in the setting of White Cliff Bay which was just so gloriously magical.' "Book Addict Shaun" 'Holly Martin once again serves up a wonderful romance sprinkled with several laugh aloud moments and a generous offering of holiday magic!' "Kimberley's Bookshelf"
Yay! I was so happy to read Summer at Rose Island. It was warm and heart-lifting and pretty perfect 🙂 If you are after a feel good book then look no further.
While this is set in White Cliff Bay, this book is completely different to the rest in the series, and wait for it because I am stating the obvious! It is set in Summer! So that means summer feels, swimming in the sea and, obviously, eating ice cream 🙂
I liked how this one, unlike the last one, focused on one couple – Darcy and Riley and I liked how the narration was split between them. I felt like we got more of an understanding into their relationship and a better understanding of the individual.
While this is part of a series, you don't actually need to have read the others to read this one, as each book focuses on different couples. But it would be nice to read the others before as the book does involve the couples from the other books. And so it is nice to have that jolt of recognition and to briefly catch up with what they're doing.
Summer at Rose Island is another brilliant book from a fab author and one I recommend putting in your suitcase for your holiday read!
Subscribe to Blog via Email
Join 369 other subscribers